Having settled abroad for better job opportunities, better life prospects, and a new awakening of life, it sounds all good! But at times, we may be left with a vacant space in our hearts yearning for our loved ones who are far away from us. And we can send our love to our near and dear ones via availing cargo services.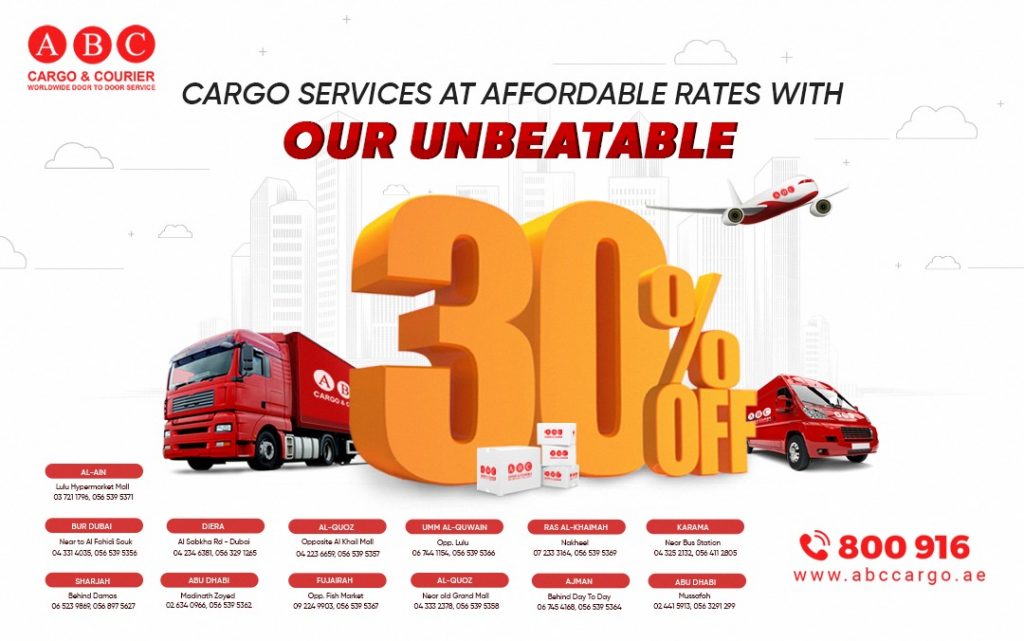 Dubai is a well-acclaimed hotspot for people who want to make it big in their career and as we know, Dubai has been hosting people from all around the world for decades and decades now. And with people from around the globe flooding into this gulf country, so there has been a rise in the number of shipments across destinations. And, this led to the establishment of ABC Cargo in Dubai which flourished to become one of the pioneering cargo services in Dubai.

ABC Cargo in Dubai has been catering to the transportation, freight, customs clearance, and documentation procedure for safe delivery of your shipment across oceans and skies. ABC Cargo takes pride in the timely door-to-door delivery with smooth execution and perfect transactions.

We maintain completely dedicated and focused service when it comes to the hassle-free freight of your shipment- with professional packing. Cargo insurance for bulk goods, timely and right delivery of your shipment at the exact destination.

We have a transparent pricing plan and permits you to transport your cargo to any part of the world at affordable costs! ABC Cargo presents you with an amazing offer of 30% off on cargo services. In this age of Covid-19, with so much anxiety around and economic depression going on, we couldn't think of yet another way to lend our gratitude to our endearing customer base.

Are you worried about the current status of your shipment? We provide you with real-time insights about the current location and probable time at which your freight will reach the destination.ABC Cargo has various warehouse storage facilities across the country to diminish your logistic costs and maintain stock levels.

Affordability rates of cargo services can come as a tough question to multiple people. But, that's never going to happen with ABC Cargo as your cargo-partner. Having a transparent pricing system lets you know exactly what you are paying for and we make your every penny count with our timely cargo services. In addition, we have also introduced a 30% price waiver for all the cargo services and it's not going to be any heavier on your pocket. It's affordable and time-bounded! What else do you need from a cargo partner? It's the best time to rope in ABC Cargo as your cargo-partner if you have not coordinated with them!

Else, if you have been associating with them for long, then grab this unbeatable offer of 30% on your bills and get your shipment done in this Ramadan season. We will carry your box of love to the right destination and deliver your shipment at the right time to the exact doorway.