ABC Cargo Abu Dhabi Reviews | Totally Recommended – cargo to India
Trustworthy and efficient! Our cargo was delivered in perfect condition on the right time. Thank you, ABC!
Great & Exceptional service from booking till delivery on time and very professional, Totally recommended
Sent an air cargo last month. Credit where it's due – cargo reached on time. However, so many things reached damaged including cooking utensils completely dented. To dent metal, the handling would have had to have been so bad. Glass items shattered and mugs broken. I sent a whatsapp message to the contact. No response, no acknowledgment, nothing. Would not recommend.

K Vee
I had very bad experience from Abu Dhabi ABC cargo. My husband was already shifted to India and Ibooked air cargo on 14th august . Packers made me fool with extra KG's . I had to travel India same day on 14th aug.I did courier for clothes , kids toys and kitchen crockery and steel utensils and some basic otherstuff. I had idea it will be maximum 70/80 KG's. Before packing start, I showed them everything and asked how many KG's it would be??They said madam it's maximum 100 KG's. I said okay than I tell them to start packing. After packing everything, I asked how many KG's . They said it's 253 kg. It was really shocking for me and was not able to decided anything at last moment , I had to catch my flight too. Finally I paid them for 253 kg as had no alternate option. I received my cargo after a month and when I opened there were lots of damages in kitchen stuff. They did special bubble packing for crockery and everything was broken in pack, I immediately informed them with pics . Now since 16th august till 1st September they were playing mail to mail and was asking for some docket number and POD . I had shared courier receipt as POD. And finally after 2 weeks they sent mail that insurance company has rejected ur claim. It's is not covered. ABC is totally unreliable cargo company. I would never suggest to anybody for ABC cargo. They charge for special packing and insurance but at the time of claim they do not accept anything.

Saint Kumar Rai
The worst and unprofessional service cargo. they are not giving any value for customers. its been 9monts I sent cargo. but it not yet reach my home. the worst and worst serve. guys please don't go for this cargo. totally frustrating service. if we call customer service, they behave like we are asking for their stuffs. not giving any value for customers and their money.. again and again the uttermost worst service ever.
Dubai Service palette of ABC Cargo!
ABC Cargo in Dubai has been providing complete and finite logistics solutions over decades. Besides freight forwarding, impeccable customs services are provided to smoothen the logistics process for both domestic and international cargo services. ABC Cargo believes that time is equally valuable to all and embraces simplicity at its best.
CUSTOMS CLEARANCE
The customs clearance services catered to by ABC Cargo lays emphasis on fast and hassle-free clearance of shipment. ABC Cargo enables our clientele to interact with the complete process of customs clearance by owning it in their able shoulders. Customs clearance is a significant part of the cargo services and non-clearance of freight can result in an unexpected loss.
DOCUMENTATION SERVICES
We are quite aware of the fact that every nation abides by different documentation formalities for inbound shipments. International shipments are necessarily processed with a Bill of Lading, or Shipper's Letter of Instruction, a business invoice, packing list, and a certificate of origin. No matter which shopping option you choose, the group of experts is available to guide you and provide assurance that you have in store all the documentation you need.
INSURANCE SERVICE
The freight insurance by ABC Cargo encompasses cargo forwarded by water, air, and road. Protection for your shipments as in freight with our cargo insurance. But, there are few rules and regulations for different types of cargo items during their shipment. The risk prolongs during the real-life course of shipment to terminate on delivery.
WAREHOUSING AND DISTRIBUTION UNITS
ABC Cargo owns warehousing units in prime areas of the country. Being regarded as a significant criterion of our palette of services providing you to limit overheads, enhance productivity and reduce significant management time. ABC Cargo relies on the fact that warehousing is a prime phase of the production network and it controls and coordinates all movement and storage.
SHIPPING AND PACKING SERVICES
ABC Cargo takes pride in having an in-house group of expert, skilled packers who employ excellent, durable packing materials. ABC Cargo proceeds their day to day operations with the aim that your shipments are delivered safely. One can remain sure of the fact that your cargo will reach its destined location in a secured packaging.
Avail of the qualitative services of ABC Cargo at affordable rates with an extra 30% off from your shipping charges and have a happy cargo delivery experience!
A dedicated team providing uninterrupted cargo services from Dubai to India. 
Send your boxes of happiness on every festive season by availing of the high-speed door-to-door delivery service of ABC Cargo at minimum charges.
Undoubtedly ABC Cargo provides the best courier services in Dubai with tailor-made solutions. Protection of your shipment with utmost care and in the most efficient manner is quite easy with ABC Cargo!
International shipment services with 14 branches in UAE with exemplary services in cargo to India. 
TRUSTWORTHY SERVICE
To start from packing to delivering, your shipment is sound and secure in the hands of ABC Cargo, even in the middle of the ocean.
Avail efficient and timely cargo delivery services of ABC Cargo and contact Toll-free number 800 916 to know the cargo shipping charges per kg from Dubai to India! 
Professional packing which protects your delicate. Our professionally trained specialists will meet your need for large or small cargo packing.
ABC Cargo Sharjah Reviews
Very bad service and lack of professionalism, they would say clearance issues while tracking the delivery. even after rigorous follow up it took more than 60 days to receive my items and most of the items ( edible items ) got damaged
just Okay, after get delivered some IKEA containers were found broken.
Tusy Amy
Very professional people to work with. Shifting was done very professionally without any damages. Would definitely recommend to others.
Professional, timely and communicative.. had a great experience..

Mahitha mani
Sent the courier 8 months and still not received. This is my sincere advise to not choose ABC Cargo. Not only they deliver stuffs super late but the response from them when I call to check the status is very bad. I used their services on last December 2020 to send some stuffs to my home in India and it's been not delivered yet. It would have been better for me to take a plane and go with the stuffs. Delivering few days late is accepted but saying the excuse that for the past 8 months the courier is stuck in Mumbai doesn't make any sense and they can't do anything about it and just says some funny reasons when I call them. This is my experience and I sincerely advise anyone who is looking for a fast and reliable courier service to skip these guys without a second thought. Surag
Sonu Surag
ABC Cargo is the worst service ever. no responsibility never trust them
its been almost 240 days since we sent it still not received. Very Poor Service!!!! Never send your cargo in ABC cargo. Their employees are the ones posting the positive comments don't trust them. Like
Prompt and on time, keep up the good work team. As promised more getting ready.
I have used Abc cargo for international shipping and am very satisfied with their services. Professional team to pack your items, quick customer support, and best price. My carfo arrived all safely. Highly recommended.
ABC Cargo and Courier is specialized for Door to Door Cargo Services to India from Dubai. One of the best cargo courier company in UAE . ABC Cargo main braches in Burdubai, Karama,abu Dhabi, Ajman, Al Qusais, Al Ain, Ras Al Khaimah, Al Quoz, Muhaisnah, Sharjah, Umm Al Quwain, Deira, Al Barsha, Sharjah Nahda, Fujairah and Mazyad Mall .
ABC Cargo Bur Dubai Reviews
One of the professional cargo and courier services in Dubai. Kudos to the excellent customer service team for providing a proactive response to their customers and helping them in resolving all their queries positively.
Excellent experience.. Really satisfied with customer service.. Staffs are very friendly and easy to communicate

Divyamary Murmu
Good service and timely response

Very fast and prompt service. I send 2 boxes of household items from Dubai on 14th November and I received it today in Mumbai before schedule. Thank you team

Mohan Nair
Received ship cargo today on 34th day!!.. appreciating for delivering within timeframe.. thanks. ?
Everything was super smooth, professional and fast. Ms. Sherif made sure all my questions are answered and supervised every step till the packages arrived safe home. Thank You.
Ali

The delivery was extremely quick and for a great price! Really impressed and I'll definitely use them again.

Raheem
I got this cargo company through Google. I requested for a car shipping from Bahrain to UAE.The quote was satisfactory for me and the process clear as well.What I appreciated that during some of the issues we faced during the shipping ABC Cargo was able yo handle the inquiries and solve them smoothly. Would recommend it for anyone looking for a smooth fast process.

Labib Hassan
3rd times I am sending a cargo to India via ABC cargo got good price.

Onam is at your doorstep and every household is busy doing the preparations in the best possible way to celebrate Onam in all its glory.

Dubai is also home to numerous Malayali families, though they are miles and seas away from their homeland, Onam can never be kept at bay from their hearts.

This year around too, Covid has not eased its grip and still the pandemic continues to be a constant worry among the public but this should not dampen our Onam vibes in the least possible way.

It's a customary part of Onam celebrations to exchange gifts among family and friends and it has been carried over from generation to generation. But what about your near and dear ones at far-off places?

Door-to-door cargo Dubai to India, is just a matter of time with the best cargo in UAE around, ABC Cargo! 

Cargo to India Get Exciting Onam Offers!
Exchange your gifts to your distant friends and relatives this Onam season with an unbeatable offer of 30% and spread the Onam vibes.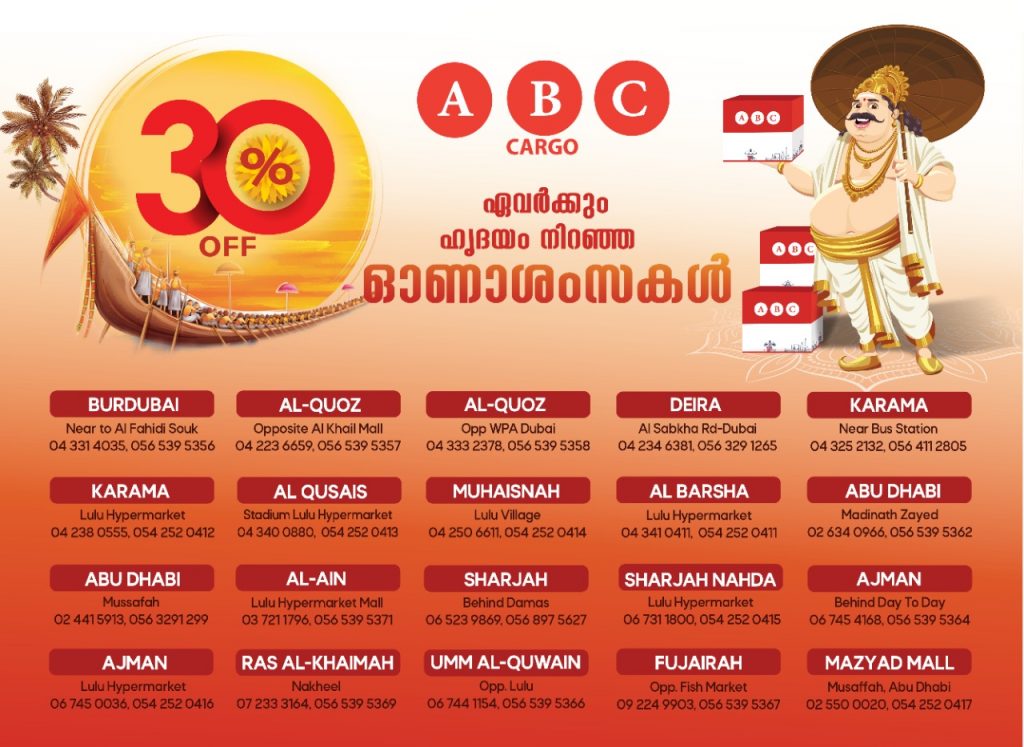 With the pandemic fears still making around, it's best to employ the door-to-door delivery services of ABC Cargo rather than taking the risk to be outdoors than the permissible hours.

ABC Cargo is more than happy to take your boxes of happiness to your closest ones and exchange your good wishes. Celebrations can be pompous and festive with delicious Sadya, traditional attire all by being at home and enjoying the festive season to the fullest!

To your faraway kith and kin, share your love in packages that ABC Cargo will readily deliver at flat 30% off to add to your happiness!

Have a blessed Onam and ABC Cargo family shares all its good wishes to all and let this Onam bring you a lot of cheer and good fortune.
.
Forget the worries of long-distance, get to your home and show them how much you miss them in this joyous occasion and we will make it completely possible with our humble intervention.

Grab the exciting offer of 30% for door-to-door delivery services in UAE and spread the Onam vibes!

Please check some ABC Cargo Google Reviews July 2021
I am so happy with their excellent service. They are very professional and customer-friendly. I have sent an express Cargo through ABC and reached within 7 days without any damage.. especially thank you to the packing team Mr.Shaji and Mr. Shafeek. Highly I would recommend Abc cargo.
If there is a rating in minus, I would go for that. Guys it is your hard earn money please do not trust on this unprofessional company. I paid 3000 diramhs and I received my stuff damaged. They don't lift boxes, They just throw them like garbage. I wish I could share the images that what happened to my stuff. My all kitchen item, clothes, frames, crockery and imagine strong pan and pressure cookers are damaged. Please don't use their pathetic service. SAVE YOUR MONEY from them.
Totally disappointed with the service and will not recommend anyone to use there services. I sent a cargo in 2019 aug which was delivered after 5 months. Inspite of that again i thought of trying there services as they keep sending promising ads… sent a cargo in December which has still not been delivered and i hv no clue … even after 9 months they keep rwplying its still under custom clearance. Horrible service… will not recommend anyone to use it.
They assured to deliver air cargo with in 14 days from Dubai to India. But it's been 28 days now, my things are still in the air. Poor service.
Nadeer Puthur
Very bad customer service….very slow…it has been over 1 month since I have sent my parcel and did not receive it yet…the customer service also does not reply and dont answer where my parcel is…I am not even able to track my parcel…I will never use this ABC Cargo and recommend no one to use it….It has very bad service
We had some goods to be couriered and contacted ABC. The staff on the call and the person who came to pack were highly efficient and knowledgeable. The goods were received in very good condition. Overall a very good experience
chandrakant bhandarkar
Very bad customer service….very slow…it has been over 1 month since I have sent my parcel and did not receive it yet…the customer service also does not reply and dont answer where my parcel is…I am not even able to track my parcel…I will never use this ABC Cargo and recommend no one to use it….It has very bad service
Rukhsar Pathan
Very poor response. Will not use for my next requirement. Also Indians in UAE do not trust in their commitment of door to door delivery. They hand over consignment after reaching to third party logistics and they demand money on delivery to apartment stating that consignment is booked for ground delivery and not on the higher floor. Very cheap and third grade service.
Mitesh Chauhan
Worst Service by Burdubai Branch. The Branch Manager, Sarat, has been after me until he got the shipment. This is Aircargo. Should have reached in 20 days. Now, it's already 40 days. Sarat, the Bur Dubai Manager, is totally hopeless. He does not have the basic courtesy to respond to my innumerable mails/messages
Raja Gopala Krishna
WORST CARGO SERVICE- ABC CARGO you guys claim we are fastest cargo services in UAE and Number 1 Cargo in all over UAE.Sorry to say but you guys have WORST SERVICES.I myself came here in India and your guys are still asking me to wait till next month.How many excuses you guys will make. Normally cargo reaches in 15-20 days maximum is 1 month not 7 months.I don't know what is your issue at customs but I need my cargo before end of this month either I have no other option to file a complain in consumer forum.
Good service my stuff delivered in safe condition I highly recommended to my all friends
Faisal
Hi, I am Muhammad from India. By using ABC Cargo first time I feel very happy with this service and its collaborative team.
Muhammad
Picked up my parcel from UAE and delivered it safely to India at my door address on time. Excellent service – recommend using again.
Afsal
No reservations at all. ABC Cargo company is simply reliable to send goods to Sharjah from Kerala. 100% recommended
ABC Cargo Whatsapp reviews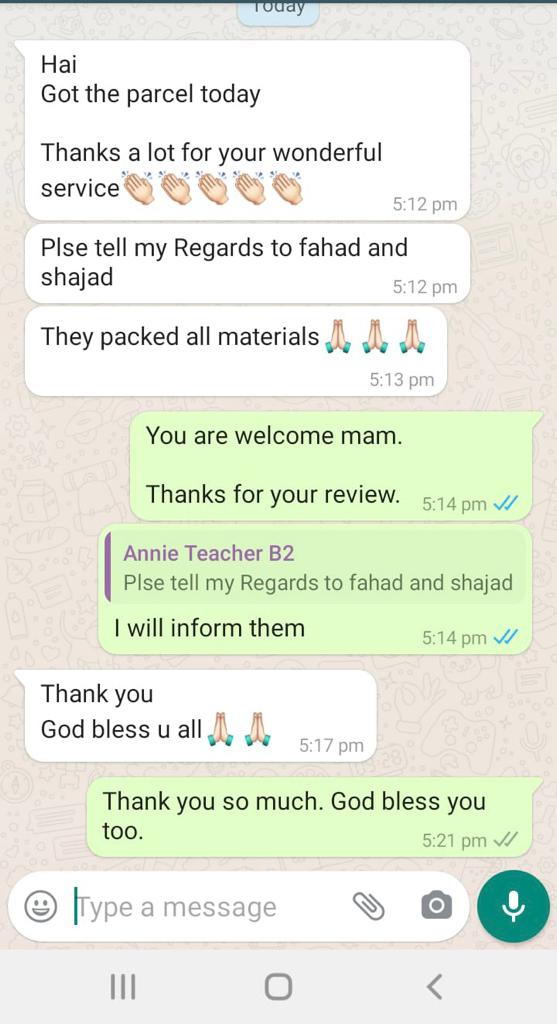 Deepu
Very unprofessional and poor service. I had sent my cargo to India and it's been more than three months my cargo is not delivered. I would not recommend anyone to use their service.
Had a very pleasant experience with ABC. I'm definitely gonna be regular customer of ABC. Good Response from the Customer service also .
Hi all, I sent one cargo on December month from Burdubai branch and a lady named saranya was very rude with me. She don't know proper English and how to talk with the customers. She always say that whatever you want to do, just do that. we will see. Is this the attitude she wants to show to the customers like us who are suffering in getting the cargo from past 7 months? Very worst lady ever seen in my life. ABC Cargo Manager should remove such arrogant ladies first. please dont go with ABC guys.
ABC Management, my cargo (ABDR14818) was booked on 21st December 2020 (its 2020 pls read carefully) .. Today (12-July-21) 201 days Completed !! Total 201 Whole days completed .. !! Still getting excuses !! No sign for delivery !! Superb Guys !! What a company .. what a management .. What a service !!
Sahubar Sathik
Find the more abc Customer reviews
Great service as always. I have been relying on Courier ABC for all my Courier needs for over a decade and they never let me down. Very Prompt and efficient. The prices are reasonable and moreover no tension delivery.
The most prompt and best courier service with helpful staff. My legal documents reached before time, thanks to their punctual and speedy service.
The service is prompt and quite good. I am happy to be associated with you for all our future consignment needs
Anil
Thank you for the great service, my box reached in the time promised. Efficient service and would recommend to others. ABC Cargo was very helpful and polite.
Thanks for your excellent service! Receiving parcels from India has never been this easier and reliable!
The service is good they are always on top of it to keep things moving. Especially the person who I interacted with, Mr.Sameer.
Thankyou
Excellent all around! Had 2 heavy suitcases shipped from a hotel in Abu Dhabi all the way to Hawaii. Both suitcases arrived very well packaged (wrapped in styrofoam and clear wrap) sooner than expected and delivered by FedEx for a price a lot less then FedEx quoted on their own website (FedEx is a US shipper). Throughout the whole process I received excellent communications through WhatsApp including tracking info. Highly recommended.
BC Cargo ironically does not know the ABC of cargo services. Stay away from this place they will destroy your items and will not take responsibility. Don't trust their reviews they are faking it look what they did to my pots aluminum material they were able to change the shape of it this is how good their packing and shipping is.
Please guys never ever use ABC cargo. Service is very bad. We had shipped our things thru ABC. Cargo in December 2020 and now it's June 17 2021. Till now we haven't rec'd it. Can you believe it. 7 months. Please be aware. Never depend on ABC. Never…
Chitra S.
Do you agree with ABC Cargo Trust Score? Voice your opinion today and hear what customers rebiews have already said.
Welcome to ABC Help & Support
For simplifying customer support activities, ABC Cargo uses a help ticket system to serve our customers better. Each support request is given a ticket number which they can use to follow the tracking and progress online. Submit your complaints at: ABC cargo complaints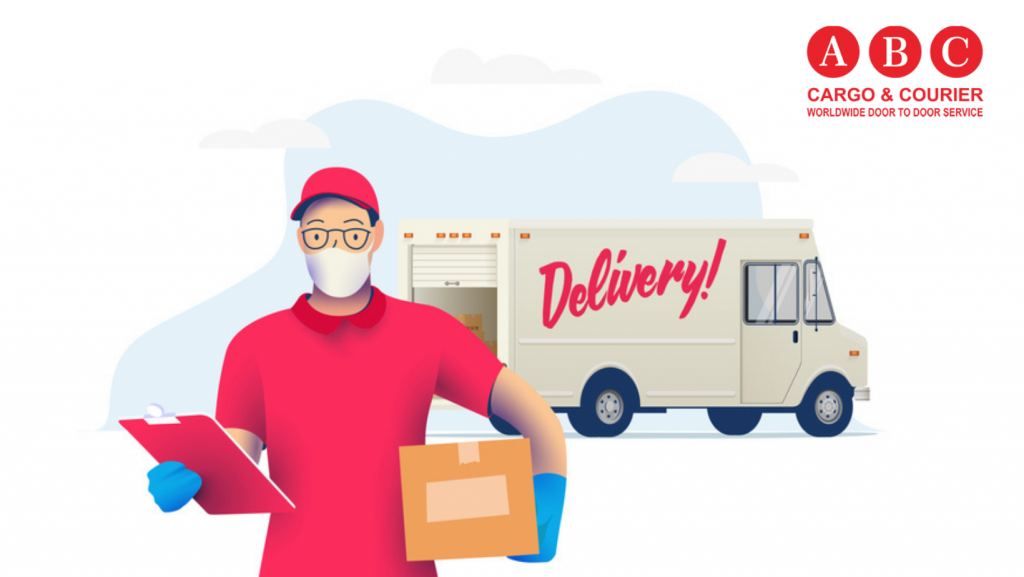 The service was the lowest price, less than half of the cost of using ABC Cargo. It was picked up from my house within an hour of booking online by a friendly courier and delivered speedily to the recipient in India.
Amin
Great service. The parcel was collected and delivered well within the timescales and the tracking made it easy to follow.
Shanavas
After having "failed collections" for a week for this parcel from Parcel2Go, I am so very pleased with My Parcel Delivery for their prompt and reliable service. Thank you!
Sarath Das
Recent Complaints
ABC Management, my cargo (ABDR14818) was booked on 21st December 2020 (its 2020 pls read carefully) .. Today (12-July-21) 201 days Completed !! Total 201 Whole days completed .. !! Still getting excuses !! No sign for delivery !! Superb Guys !! What a company .. what a management .. What a service !!
Don't book from this store, go with some other Cargo service. They will charge you for Air and deliver you in 2 months. They will promise you for 25 days delivery and send the parcel in 2 months and that too after you following up every day with them, else it may take even 3 months. So pls don't choose this cargo. And I am not writing this after my first experience. I'm writing this after I suffered twice. First time I thought it was just some genuine issue, but then this is their standard way of service. So pls don't use this cargo. Especially if you are not going to Deliver to Kerala. All parts of India except Kerala you should never send your parcel using ABC Cargo or Air or Ship.