Are you shifting your base back to your hometown and have an entire housefull of appliances, furniture, lights, and fixtures to "get rid of"? How funny is that, isn't it? You spent your last dime of budget and hours on home decor shops on busy streets and meticulously planned your interior design theme and handpicked all items to go inside your carpet area accordingly and restrictively, just to "get rid of"?
You have lived and slept your entire life with these home accessories, which cover a part of your investment, and now you are going to settle for less just to be at peace with the "sold-out" criterion and start your journey to your next destination again to spend one more time on all that you have sold at half the price!
Providers of Professional Cargo to India Services
Now, here's a solution that can work wonders for you from ABC Cargo! ABC Cargo and Courier is a leading door-to-door cargo service provider in the UAE and other GCC countries, offering both local and international services. Thanks to their constant efforts and high-quality service, ABC Cargo is the number one cargo service in the UAE, with 22 branch offices that have a highly dedicated team and a GCC Representation Network.
With ABC Cargo, you can pack your entire house of essential and aesthetic items, label, pack, and move them to your doorstep in a short period of time, saving you from the rush hours!
The packing and shipping services of ABC Cargo are undoubtedly the best in terms of proficiency and excellence. The best time-tested packing materials are profoundly employed by ABC Cargo to act as an extra layer of care for the untampered freight of your package.
Shift your Households the Right Way!
Forget about worrying about moving your house appliances and furniture while you relocate, and let professionals handle the rest! Shift your home hassle-free with the professional packers and movers of ABC Cargo and get access to safe and timely delivery!

Over the years, ABC Cargo in Dubai has provided full and finite logistics and shipping solutions. In addition to freight forwarding, top-notch customs services are available to help streamline the logistics process for both domestic and international shipments. ABC Cargo believes that everyone's time is equally precious, and it values simplicity above all else.
ABC Cargo and Courier are a leading door-to-door Dubai to Kerala cargo service provider in the UAE and other GCC countries, offering both local and international services. Thanks to their constant efforts and high-quality service, ABC Cargo is the number one cargo service in the UAE, with 22 branch offices that have a highly dedicated team and a GCC Representation Network
Choosing the correct shipping provider for your organization is critical and depends on a number of criteria. The search for the best shipping company for sending cargo to India might be exhausting if you don't keep a few essential considerations in mind. The warm welcome among the customers alike has led to the flourishing of ABC Cargo to unparalleled levels and has positioned it as one of the best cargoes in the UAE!
We must actively monitor the shipping company's packaging, warehousing, security, appropriate loading and unloading, and, most importantly, delivery punctuality. With 20 years of experience and 22 branches all over the GCC, ABC Cargo is your safest bet when it comes to freighters and can deliver your shipment in the best possible way!
Door-to-door cargo experts!
Now, avail of ABC Cargo services in your nearest Lulu mall stores and grab the opportunity to shop and ship in a single day!

As Delta was slightly getting under control, we were awaiting a new ray of hope, until Omicron doomed us and things got unpredictable! How did it affect the logistics industry? Let's see!
ABC Cargo, providing international cargo services, shares insights on what 2022 has in store for the logistics and transportation industry.
As we know from decades ago, the logistics industry technically faces a boom in deals at the end of the year with the festive season rolling in, and that's exactly what didn't come through this year, due to the Omicron showdown!
Omicron impact on cargo industry
Major shipping and aviation freight charges have reached new highs as the Omicron mutant has slowed major ports and global supply once again. The Shanghai Containerized Freight Index (SCFI) grew by 125.09 points last week, reaching 4727.06 points, according to the industry on the 10th. Since the numbers were obtained in October 2009, this is the first time the SCFI has surpassed 4700 points. It has more than tripled in a year when compared to October last year (1438.2 points).
Since October 8, when it peaked at 4647.60 points, the SCFI has dropped for four weeks in a row, to 4,535.92 points. When the Omicron variant surfaced last week, the SCFI, which had been stagnant for some time, skyrocketed. Freight prices are rising in the Western Americas in particular.
As more export companies turn to air shipping as a solution to rising freight costs and limited freight space, air freight prices are rising as well. The burden of freight rates is increasing for small and medium-sized export enterprises with an active exchange of cargo to India, as opposed to large companies, which sign long-term contracts at a fixed rate. Companies that primarily produce domestically rather than globally are particularly heavily hit.
Now, keeping aside the fare rates, a new challenge has also sprouted, with workers facing weeks of quarantine and some quitting due to the fear of getting sick. There is a sudden dearth of truck drivers failing to fill the vacancies even after the promise of plummeting wages due to the current scenario of untimely roadblocks and lockdowns.

To wrap up
Thus, the transport industry is all set to face another challenging year of supply chain disruptions, and ABC Cargo, the best cargo in the UAE, is ready to manage it with all their best abilities to continue serving with a purpose.

Whether you are a seller with an enumerable number of products to sell overseas or just shipping a token of appreciation to your faraway cousin's wedding, you should have a clear and concise idea about the packaging material used by your cargo partner!

What type of crates can be used for successfully transporting your shipment to the exact destination? Being in the logistics and shipping industry for a long, ABC Cargo, providing international cargo services, has a quite number of options to choose from like plastic crates, cardboard crates, wooden crates, metal crates, etc.

From the lot, it's quite obvious that wooden crates are a more affordable option to choose from and as we have stumbled upon it, let's investigate on how a wooden crate can be a better choice for your shipment with the help of ABC Cargo, Dubai cargo company!
Wooden crates for shipping!


Crates made of wood are one form of crate that can be used for shipment. It is, however, one of the greatest types of shipping containers available. They're tough, and they're known for providing excellent protection for the cargo you're transporting. They're also environmentally friendly, easy to store, and stack. Precipitation, salt, humidity, temperature, snowfall, and other natural elements are all well-protected by wooden boxes. Many shippers prefer wood to steel because steel is an excellent heat conductor. For the record, if you want to keep your load safe, that is a bad thing to do.
What are the winning points of wooden crates?
1.It is both inexpensive and effective.
If we exclude plastic, wood is one of the most affordable materials available. When it comes to product safety, though, using plastic is the worst thing you can do. Furthermore, it is one of the least environmentally friendly materials available. As a result, wood is one of the most environmentally friendly materials available. It's simple to recycle wood, and when combined with the durability we discussed earlier, it's a winning combination. Isn't using wooden crates for shipping an excellent idea for sending your cargo to India?

2.Safe and secure

They are really safe. When it comes to security, wooden crates are one of the greatest solutions. Opening a wooden crate is tough because it necessitates the use of tools. Opening a wooden crate takes a little more time and effort, and it won't go unnoticed. So get some wooden crates and keep your cargo safe!

3.Capacity to stack
When you want to stack wooden boxes one on top of the other, they're ideal. They're often designed to handle the weight of numerous stacked containers. They're also fantastic because you can use them as the principal crating material for a long time. Their endurance and strength are unrivaled. Many dwellings are made of wood, and this is not by chance!Wooden containers can be stacked without difficulty.
4.Crates made of wood are more difficult to break.

For hefty cargo, wooden crates are used.When it comes to moving large and heavy furniture, wooden crates are ideal. As previously stated, heavy-duty timber crates can support weights ranging from 4000-7000 pounds, or about 4 metric tons. This will suffice for any large item you intend to ship, whether it's heavy machinery or a large piece of furniture.
Start shipping with ABC Cargo!

With all that discussed, best of luck with your endeavors in employing wooden crates for shipping!

As the festive season has now begun, we would love to send across your love to your near and dear ones around the world. Dedicated Team Providing Uninterrupted Cargo Services From Dubai To India.
ABC Cargo Fujairah Reviews
ABC Cargo I must say they promise to deliver and they do it on time. Amazing service of Mr.Vishnu on call and for the package pickup and tracing for the delivery details everything was top notch. I believe in this ABC Cargo they have an amazing team and goodwill for the customer. They are always there for customer support. Thank u team for the amazing work done ✅. May God bless u all with lots of love n blessings.❤️???5 stars ⭐ rating will be less for this company.
Heena Shaikh
Very good service and Gud customer care also.. satisfied.
Good customer care service and fast express delivery. Iam happy to send cargo through ABC cargo.
I lost my goods even they opened food packets and used . They will charge you even for 1 grams ..my first and last experience ? Make sure to take complete list of sending items before calling any cargo service and after make sure to take picture of each item seperately and the cargo person need to give exactly the same as per our list .it will take time any way it's safe.. Don't accept any estimated bill from cargo make sure the billed items exactly will match with our cargo luggage .Keep all the invoiced cargo bill and photos vedio if any way till then cargo reach to your destination .If we lost any item cargo will ask you supporting documents ,then u need to provide all these. Beware of frauds ..

santhosh jose
Very good and fast service .. reasonable price and they were patient to update me with the parcel details every time I ask them …. The parcel reached fujeriah to India safe with no damage …. Very much satisfied .
ABC Cargo has an efficient team of professionals with more than 20 years of experience in the cargo and customs clearance service
ABC Cargo Recent Reviews
Air Cargo sent from last month received in good condition. There was a minor delay of 3-4 days, but the important part , the packing was good that kept the items safe.

Good shipping rates, I do recommend their service
Delivery was door to door despite of this delivery at destination was pathetic, delivery person called and ask to collect cargo boxes from out side colony that is approx half kilometer away and didn't dilevr at home, my family have to arrange conveyance for that to collect boxes, this was not expected such a big cargo company . Even delivery man asked for extra charges to deliver at door step and his way of taking was also not.
Danish Usmani.
Nothing but a little happiness that made me to share. On 12th Oct I sent one cargo through your Ajman branch and I am being informed of 20 to 25 working days but my friends said it will not happen since one of my friend sent a cargo from a similar company which resembles in name and get fooled so I too was alittle tensed for the same but to my surprise it reached before the promised time and my purpose is also met. So I am very much happy and the next time also I would like to send with you guys Thanks you ABC cargo Ajman
Abdul Rahman
Efficient handling from quote to delivery. Received goods shipped from Ajman to USA in less than 7 days. Thank AJMAN LULU ABC CARGO for the perfect service! contact:- +971 54 252 0416
Jaseem K
I am very much delighted with the service that i experienced with abc cargo. I sent a cargo with my first salary to my home and very anxious about the delivery since i am being surrounded with a lots of advises that now a days cargo people are non dependable but with my experience i can say still we can send items safely Thanks to the staffs and and their support abc cargo
Vijitha Vimal
If you are seeking the speediest option to send your packages, excess baggage, luggage, cargo to India. ABC Cargo is the right service for you
ABC Cargo and Courier provides International standards from straight Dubai to India and delivers whatever you want to. We also deal with commercial packing with pick-up solutions from anywhere in UAE
ABC Cargo Deira Reviews
Was a wonderful experience with the Customer care team, especially Mr. Hafeez had helped me a lot. My cargo reached on time and safely.
Ali
Customer Service is very bad ASHX22064 is my reference number the onlie tracking system is not working and call center is not giving proper reply Please refer attached screenshot cargo status upstaed on 27 Sep today is 7 Oct Please refer attached screenshot cargo status upstaed on 27 Sep today is 19 Oct
They are thieves and nothing else. I paid 3200 dirhams to ship 8 boxes to Uk and when the boxes arrived most of my goods were broken to peaces and when i complained they asked me to prove that i purchased those goods which is crazy as they were mine and they didnt ask for proof of purchase when they collected the goods. Absolute fraud and unprofessional behaviour. I wouldn't trust them with a dirham ever. . Please stay away from them as they will take ur money destroy your goods and then ask gou to prove that you bought those things and not stole them. I am fuming with all the loss i had to incur. Please please do not go near them if you want your goods to be saved and so do your money.
Very bad service they give if there is possible zero star below is okay for abc cargo there website always crashed and while call on naif office no there is no reply from the abc cargo and they are big liars. .. They just want booking while booking they will tell you it will take 10 days actually it takes a month to reached the parcel
sadik solanki
Don't use this cargo you will never get on time and your cargo will missing Very bad service. Parcel not reached on time and very bad situation they take my stuff out before reach home. Kindly don't send cargo with this company when you claim they will give many excuses see the pictures how they do smartly
SANJAY DXB
There is big news going around in the air that World Expo Dubai 2020 will boost the logistics industry. How is this possible? Want to know why? ABC Cargo, providing international cargo services has insights to share!

In the UAE, billions of dollars are currently being invested in infrastructure and logistics services as a head start for the mega event, as per the industry experts.

Expo Dubai 2020
As the reports state, the budget of the Expo Dubai 2020 site is rounded to a whopping $8 billion. The Expo site will be elevated to a step higher by a high-class road network, fresh addition to the Dubai metro system, and three international airports.

Shailesh Dash, chairman of Dubai-based Gulf Pinnacle Logistics, stated that "I believe mobility is the prime pillar of Expo 2020. The mega expo is a hub of opportunities that will connect people, goods, and ideas besides providing easy access to markets, knowledge, and innovation."

Also, ABC Cargo with door-to-door cargo services in Dubai is in awe with how the World Expo 2020 is shaping up! Let's see how!

The UAE pavilion has been set up with an overall expense of approximately Dh353 million. The 15,000 square meters project has a brilliant lineage of prime attractions. And there are exhibition spots, an auditorium, food and drinks cubicles coupled with special VIP lounges. This spectacular design has been proposed and implemented by Spanish architect Santiago Calatrava. Inspired by the theme of a falcon in flight, the UAE pavilion has been constructed embracing all sustainable building principles.
The Global Expo has been conceived to assemble together global citizens from over 180 countries and it has been envisioned to respect human ingenuity: "Connecting Minds; Creating the Future." The recent survey done by the Dubai government, it suggests that around 25 million people are expected to attend the Expo amidst its curtain-raiser ceremony on October 20, 2020, and its wrapping up on April 10, 2021.
Undoubtedly we can conclude that the logistics industry in the UAE is set to embark on a very rewarding journey ahead with regard to Expo 2020. There is going to be a skyrocketed pace for the economic transformation momentum within Gulf economies. Advancement in economic integration and cooperation from various regional blocks is also anticipated.

Being host to one of the world's busiest airports, Dubai International Airport, and the largest container port outside the Far East, namely, the port of Jebel Ali, the logistics department is going to get heavily rewarded this Expo duration.

Also, the logistics industry has had positive trends around a year and a half across the world since so many regions recovered from the economic slowdown of the past few years. Also with recovery in oil prices which has reached over $80 a barrel, has been recognised as a key driver for economic growth.

ABC Cargo, the best cargo company in UAE, a pioneering establishment catering to all logistic and shipping needs of Dubai, looks forward to World Expo Dubai 2020 and will cater to all the essential requirements with the best efforts!

ABC Cargo Ajman Services provide you with the best international cargo service at the cheapest rate in the market from UAE to all over India.
ABC Cargo Ajman Reviews
Honestly the best service ever. I stayed at the Fairmont ajman hotel and with only few hours left to travel back to london I realised that my buggage allowance was not enough. I WhatsApp messaged ABC cargo ajman and within minutes the guys came and wrapped all my stuff up and took it away. Few days later I received my goods. The price was reasonable too. I will be using them again in 6 months time when I go back… honestly the best service ever! I highly recommend them.
Thank you ABC cargo! Noroon Miah
Very prompt service and efficient pickup!! Rest will come to know when cargo arrives in India .best cargo to India.
Very professional people to work with. Shifting was done very professionally without any damages. Would definitely recommend to others.
Unny Dhanesan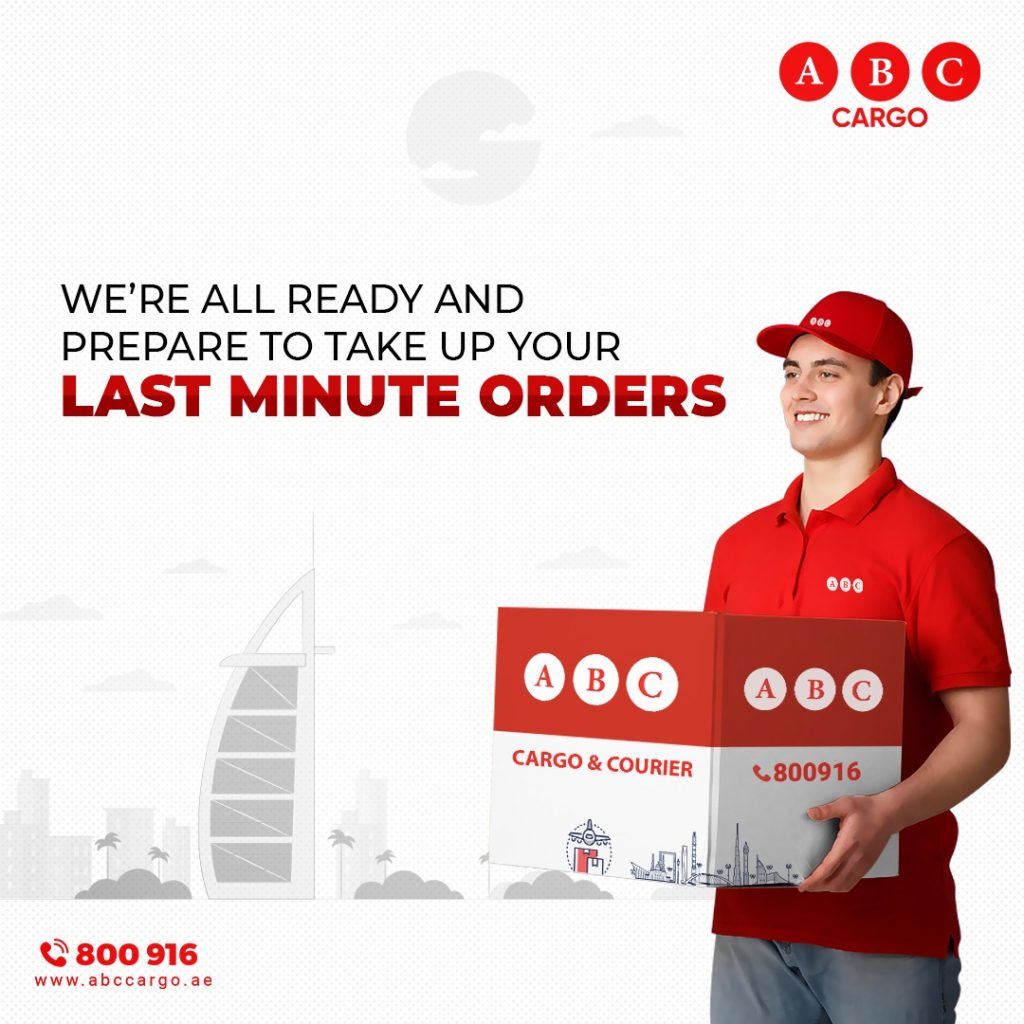 Hell service worst service ever I had Getting my package too much late Today onwards not going to send any parcels through ABC cargo Very worst service
Great service guys, my second consignment also reached my address in perfect shape. I do request not to spread hate news among public about a company, my cargo reached late by 8 days but it was intimated to me upon enquiry. Such is the season and such are the circumstances as the customs department is really strict these days with the clearance issue. Hoping to be associated soon for another consignment.
Appreciate the good response from the desk for tracking my courier. kudos to a professional approach to job. Even though received the cargo late by a few days, we appreciate your efforts
ABC Cargo Abu Dhabi Reviews | Totally Recommended – cargo to India
Trustworthy and efficient! Our cargo was delivered in perfect condition on the right time. Thank you, ABC!
Great & Exceptional service from booking till delivery on time and very professional, Totally recommended
Sent an air cargo last month. Credit where it's due – cargo reached on time. However, so many things reached damaged including cooking utensils completely dented. To dent metal, the handling would have had to have been so bad. Glass items shattered and mugs broken. I sent a whatsapp message to the contact. No response, no acknowledgment, nothing. Would not recommend.

K Vee
I had very bad experience from Abu Dhabi ABC cargo. My husband was already shifted to India and Ibooked air cargo on 14th august . Packers made me fool with extra KG's . I had to travel India same day on 14th aug.I did courier for clothes , kids toys and kitchen crockery and steel utensils and some basic otherstuff. I had idea it will be maximum 70/80 KG's. Before packing start, I showed them everything and asked how many KG's it would be??They said madam it's maximum 100 KG's. I said okay than I tell them to start packing. After packing everything, I asked how many KG's . They said it's 253 kg. It was really shocking for me and was not able to decided anything at last moment , I had to catch my flight too. Finally I paid them for 253 kg as had no alternate option. I received my cargo after a month and when I opened there were lots of damages in kitchen stuff. They did special bubble packing for crockery and everything was broken in pack, I immediately informed them with pics . Now since 16th august till 1st September they were playing mail to mail and was asking for some docket number and POD . I had shared courier receipt as POD. And finally after 2 weeks they sent mail that insurance company has rejected ur claim. It's is not covered. ABC is totally unreliable cargo company. I would never suggest to anybody for ABC cargo. They charge for special packing and insurance but at the time of claim they do not accept anything.

Saint Kumar Rai
The worst and unprofessional service cargo. they are not giving any value for customers. its been 9monts I sent cargo. but it not yet reach my home. the worst and worst serve. guys please don't go for this cargo. totally frustrating service. if we call customer service, they behave like we are asking for their stuffs. not giving any value for customers and their money.. again and again the uttermost worst service ever.