Customs Clearance in UAE has become less stringent with our best efforts. This delicate process is taken into meticulous consideration merged with the best efforts of ABC Cargo and has witnessed a smooth, hassle-free shipment.

ABC cargo has been lauded as the best cargo in UAE for its tremendous measures being incorporated in the custom clearance. Quick and tension-free shipment of the cargo is an all-time requirement of all.

ABC cargo has been looking after the entire shipment process of a massive exchange arena like Dubai and has successfully lauded in much rewarding claims. The Dubai Cargo has been widely known for its bulk exchanges and ABC Cargo tactfully handles the entire process with ease and excellence.

The brownie points, ABC Cargo has fetched all these years in custom clearance are:

Quick Clearance of Shipment

It's always sighted in the shipment procedure that three-fourth of the lag pops up amidst the clearance procedure. This is rightfully sorted out by the ABC Cargo groups in Dubai.

Complete Responsibility

Having a strong shoulder to lean on to help you out in the clearance procedure of your shipment
can be so rewarding right? This is seamlessly provided by ABC Cargo and has remarkably reflected in all the exchanges and deliveries that ABC Cargo has ever done so far!

Trouble-free clearance of shipment

The shipment procedure of Dubai Cargo has a set of norms to be satisfied in order to sanction the shipment. This can be a complete nerve-wracking situation for the commoners. But with ABC Cargo at your side, this will never be a problem. A trouble-free clearance of shipment is a rewarding feature that you can always gain through ABC Cargo.

A totally unexpected loss will fall onto you at the last minute of unclearance of your freight. This fatal occurrence can be a total loss in terms of time and money. But having the support and service of ABC cargo can dutifully cater your worries and tactfully resolve this issue with steadfast service.

ABC Crago truly understands the urgency and attention you put onto your shipment and having a minor mistake in the clearance part can result in total dismay which can be completely rectified with expert help. The ABC Cargo have been managing the massive and all-time busy Dubai Cargo with complete responsibility and true positive feedback, which would have never been possible without accurate custom clearance.

Door-to-door delivery will not just be a shipment procedure for ABC cargo, we also imbibe in our heart your emotions and expectations attested to the merchandise that is exported. ABC Cargo in Dubai won't let your shipment just go discarded enroute and will ensure prompt customs clearance. Since, we believe it's our responsibility to look after it!

Customs clearance is a stringent process where there are necessary and sufficient criterions to be satisfied and a tiny mistake can result in an abrupt end to the shipment of your freight which can be completely disheartening and we won't let it happen!

If you are in a point of uncertainty and are confused about which model to choose for your freight shipment, you are at the right place. Though pandemic has brought many challenges including price fluctuations and shipment delays, freight services are now coming back to normal. Anyhow, the choice of the mode of freight would depend upon your package size, weight, and content.
Airfreight, the best way for expedited shipping, may cost a lot more than ocean freight, but if you need the package in a short period of time, it is advised to choose air freight service over ocean freight service. Also, if you want to ship breakable items or electronics, air freight has better security than the latter. If the cost of shipping is less than 15-20% of the value of the goods, choose air freight as it is safer, quicker, and more reliable than ocean freight. This mode usually takes up to ten days. This includes holding hours at air terminals, routing and waiting for the accessible airplanes, and the time of procedures at the place of origin and the destination. Mishandling the products and chances of other damages to the products are also reduced because of the tight security and fast delivery. The chargeable weight for this mode usually determines the dimensional factor of 6,000 cubic centimeters for every kilogram. 
Airfreight: Advantages and Disadvantages
Air freights are now becoming more expensive as there are restrictions on passenger transport. Ocean freight is far cheaper and can transport large shipments. But anyhow, while air freight takes just days for delivery, ocean freight can take a week or few. Ocean freight is usually much slower than air, and customs issues and port holdups can sometimes cause additional delays too. The duration depends upon the distance and may range from just seven days to as long as 70 days. If you're not in urgent need of the package, you can always choose ocean freight over the rest. Though it is a complicated process,  ocean freight is considered one of the most commonly used ways to transfer goods. Although, ocean shipments ensure safety as the ship's designs can support the movement of hazardous or dangerous items safely and securely. For ocean cargo, the standard is 1,000 kilograms/cubic meter. For this mode, one cubic meter of payload with a load of 500 kilograms, can be multiple times more costly than sea cargo.
For the best ocean freight and air freight service in Dubai, connect with us via our cargo contact number.

The ABC Cargo Service was impeccable
The service was good, in particular when packing for the moving. The staff was extremely careful, trustworthy and incredibly polite. Also the coordinator of the moving, ABC Cargo, was always efficient and timely. Strongly recommended.
Amal
Everyone at ABC Cargo is Awesome. They always keep open great communication through emails about incoming containers. I have never had a problem with anyone or anything.
Cheryl
Very good and friendly service
Very good and friendly service. They helped me with paperwork and did most of the paperwork for me
Anna
Great trustworthy service….
I had no experience dealing with freight forwarders before choosing ABC Cargo. They have been so great to work with and have made the process of moving my freight easy. They keep me informed and are attentive to my needs. I'd highly recommend their services.
Johan
Worst ever experience…
. Don't go for ABC cargo they are charging so much for air cargo that to its not reaching even after 35days..when we are calling the office they are irresponsible and not replying properly.. Worst ever experience… Don't go for ABC cargo.. Its my humble request thank you Joke of the year by abc cargo thanks..
ABC Cargo Services provide you with the best international cargo service at the cheapest rate in the market from UAE to all over India. We have a great transport network covering all the significant zones in India.
Cheapest Courier Service from UAE to India
Also, did you know we are running an amazing offer that would let you save 30% of your conveyance charges? Yes, you read that right. This is the ideal opportunity to surprise your friends and family at home. You can likewise send a free courier sending quote to comprehend the delivery strategies, rates, and all the different details you would require.
Ramadan Special Offer to Kerala
Grab the best Ramdan offer on ABC Cargo
With express delivery, you get every package hand-delivered anywhere in the world in a week.
Being one of the leading courier services in the UAE, each day we ship thousands of International couriers worldwide with fast delivery service at the best price. We give you an easy door-to-door delivery service in the most hassle-free methods. Be it small packages or bulk international deliveries, we'll pick them up from your doorstep.
In a joint effort with our group of specialists and our administration accomplices, we are sure we can offer a full range of services to meet your requirements. We also provide additional services including packing and repacking, pickup and delivery, labeling services, and real-time tracking. We offer premium and adaptable airship cargo services to guarantee that your urgent package is sent to you with the best routing, estimating the conveyance timelines. The technology is always under exploration by us to make the whole shipping process faster, but cheaper. Working with top transporters around the globe, we can offer our customers the most competitive rates and secure space.
To know more about your freight, get in touch with the cargo contact number provided in the website and to know about the price/KG send us a quote.

We all know that livelihood and employment in the current crisis situation due to COVID-19 demands a solution with an advanced vision even for the skilled laborers and employable youth. All levels of business and corporates are facing this plight and so are we. We have been working knee- deep for making sure that our customers do not have to face difficulties on behalf of us. There have been numerous interruptions to our service especially when it comes to transportation.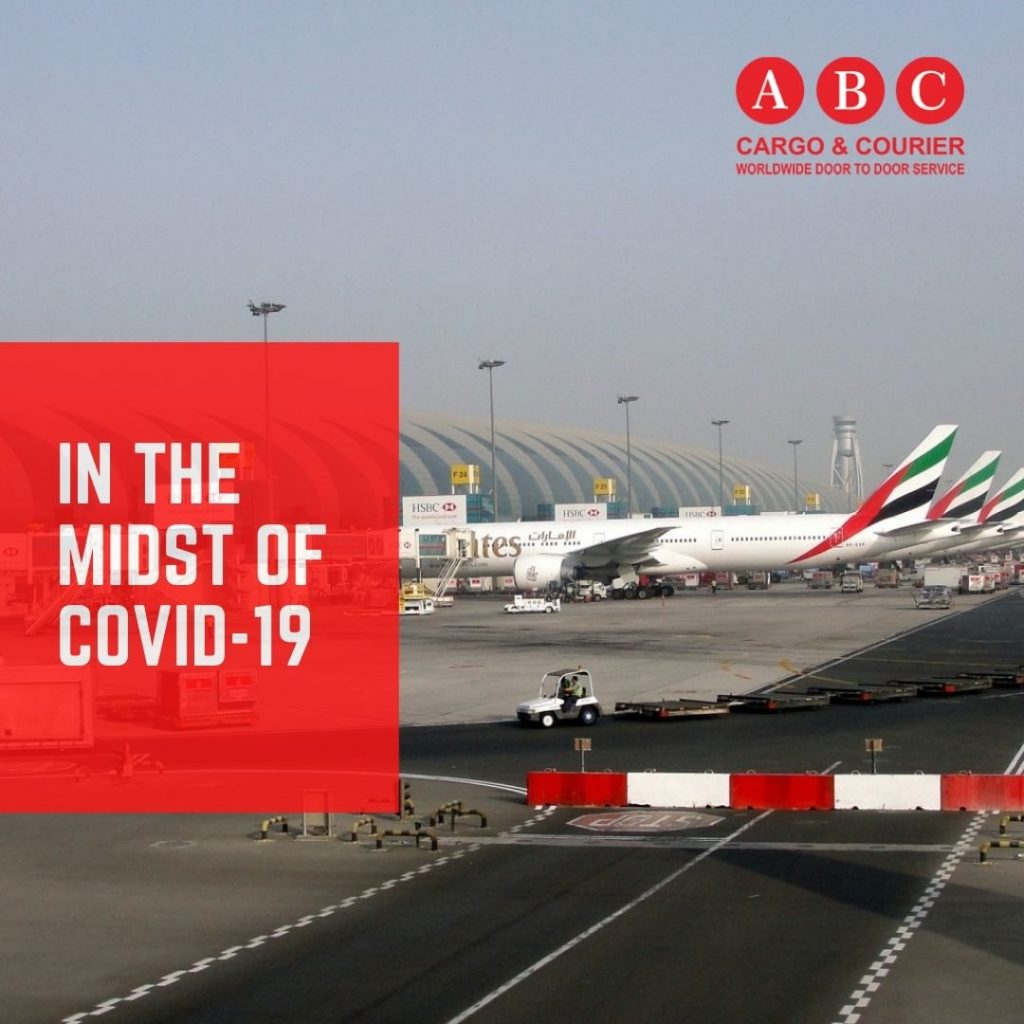 COVID-19 is constraining individuals around the globe to live and work in profoundly various manners. Fruitless racks, void roads, empty eateries, falling markets, rising case checks; this is a new reality. For most of us, this is a period of incredible vulnerability. Coronavirus is changing the manner in which individuals work, with transportation issues, remote work, and social distancing turning into the new standards. In numerous associations, these better approaches for working are bringing up issues and concerns.
We appreciate customers' choice of us but the safety and security of our customers as well as our employee's matter, furthermore. We are delighted to see a huge proportion of our customers understanding these difficulties and acclimatizing.
ABC Cargo and Courier comprise of a large team of experts and specialists who are ready to work day and night for the accomplishment of our goals. But this has taken an upside-down turn due to the pandemic.
We are keeping track of all the changing regulations and recommendations of WHO for the betterment of our service.
ABC Cargo
Customer Support Team: 800 916
Pollution, particularly Sulfur contaminations, is unsafe for nature, and they are rampant in the logistics industry.  As humankind reaches towards the life conveniences made by science, little idea is paid to the unintended outcome that we pay for the sake of progress. As indicated by steady observations from NASA, the normal worldwide temperature has risen 1.9 degrees since 1880.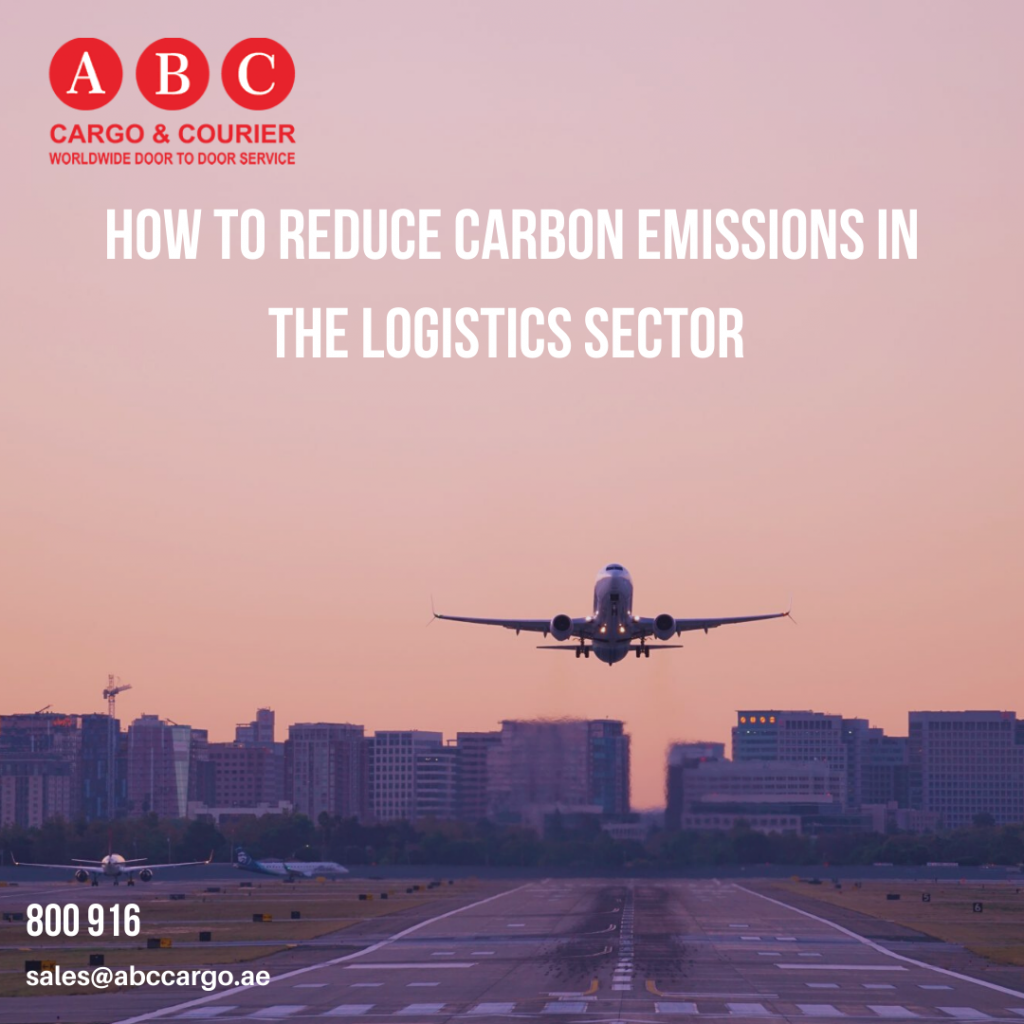 Logistics and transportation are one of the world's greatest sources of greenhouse gas emissions. Understanding the effect of international cargo services is important in understanding why we have to begin making changes.
You may think Air cargo causes major pollution in the logistics sector but it is not. Air cargo has notoriety by a wide margin of the awful CO2 impression. Notably, this disrepute might be profoundly exaggerated and air freight is less of a natural threat than often thought.
Air cargo services' dishonor depends on the way that long stretch flights produce an expected 602 grams of CO2 releases per ton-kilometer. It implies that on a long stretch course of 10,000 kilometers, for example, a trip on the major trans-Pacific exchange route from Shanghai to LA, every ton of payload is causing 6 tons of CO2 outflows into the air!
Anyway, that number of 602g per ton-km of air freight is deceiving. Numerous airlines don't possess freighters and fly freight exclusively on the lower deck, with about a portion of air cargo going on the lower deck of passenger aircraft. If your cargo is under 160cm, there is a good chance it's flying on the lower deck. At the point when cargo flies on a traveler flight, its impression is constrained to the marginal extra fuel consumed to cover the heaviness of the freight.
The airplane has one significant advantage – they will in general fly like crows, in a straight line, though trucks will zigzag along roads and drive 10-30% farther than the direct distance. With this additional factor clearly, the peripheral carbon impression of lower-deck air is no worse than the road.
Undoubtedly, the Freight Forwarder industry is still a huge producer of CO2, and air emits much more than sea or rail, however, it's acceptable to realize that lower-deck air cargo is probably 7-10x less emissive than is usually suspected, and is equivalent to trucking.

ABC Cargo and Courier is one of the main Dubai to Kerala cargo services in UAE and other GCC covering both local and worldwide services. With our constant endeavors and quality service provided ABC Cargo ranks as the number one cargo service in UAE with branch workplaces having a highly dedicated workforce and a GCC Representation Network.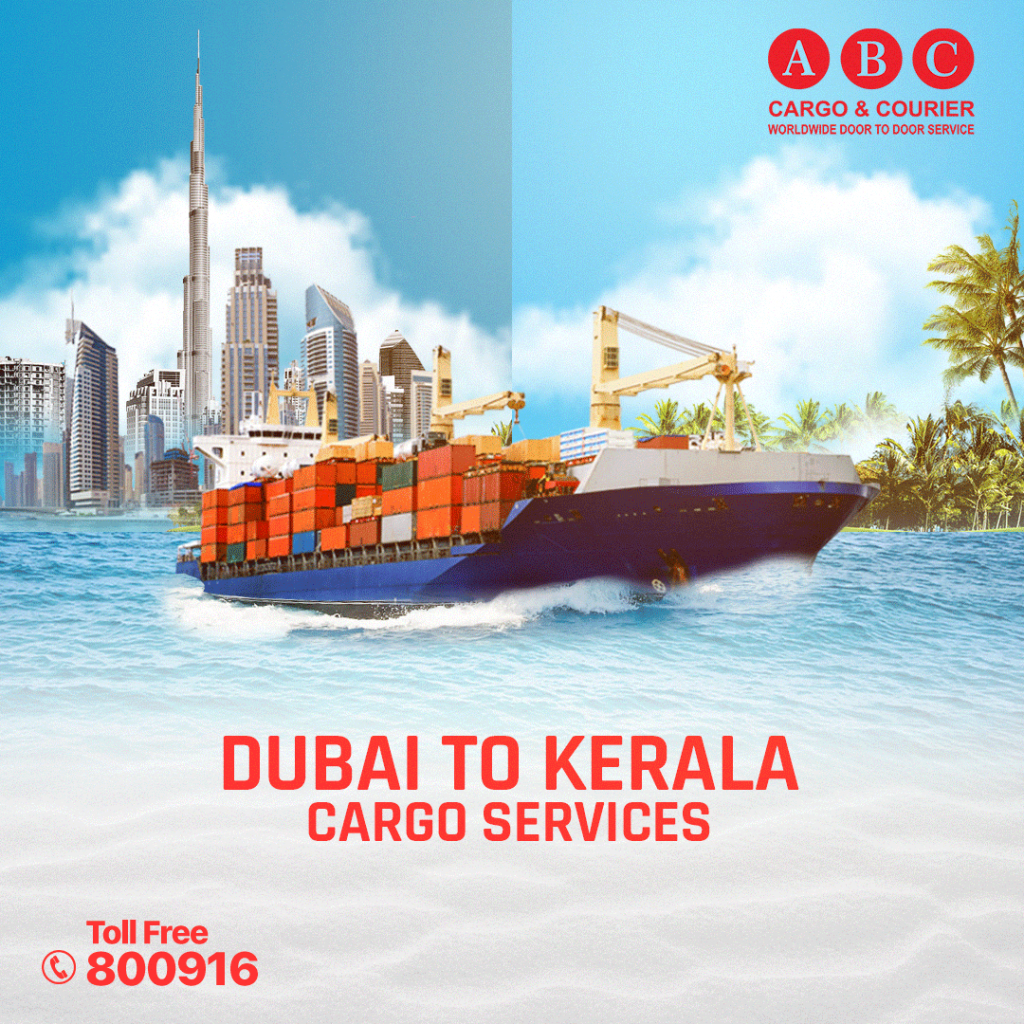 ABC Cargo and Courier handle shipments from any place in UAE to Kerala for delivery all over India. We handle Air Cargo to India documentations and consolidations just as warehousing and packing the cargo. It has an enormous conveyance network covering all the significant areas in India particularly, Kerala where they guarantee an accelerated service inside the timeframe delivering your blessing to your dear ones. Not only Air shipping but also as a specialist in the transportation and cargo industry, we provide tailor-made service solutions for all your trucking and ocean-freight needs as well.
Door to door cargo dubai to india
We are also offering door to door cargo services from Dubai to Kerala movement of products via Air and Sea. We are ensuring the fulfillment of our clients with cost-effective, solid and on-time cargo services. We likewise deal with the whole documentation services, customs clearance, and the insurance needs as and when the need emerges. Further, the loads are constantly observed and tracked by our tracking system until delivery. Customers have the option to track their cargo in detail and services like the complaint portal making our services transparent to our customers. The cost-effective cargo charges from Dubai to Kerala, attract people to seek our services more.
Even when the world is stagnant in the COVID-19 pandemic, we didn't stop doing our duties. We are busy delivering the cargo to their beloveds, keeping a safe distance and maintaining all preventing measures as directed by WHO. The same was the case during flood-hit Kerala. We were active on the ground for our initiative on "Kerala Flood Relief". Materials were collected from those who are willing to provide flood relief at various branches of ABC and sent to the state free of cost.
ABC Cargo loves to initiate entertainment campaigns regarding special events like Christmas, World Cup, etc. to keep our happy customers happier.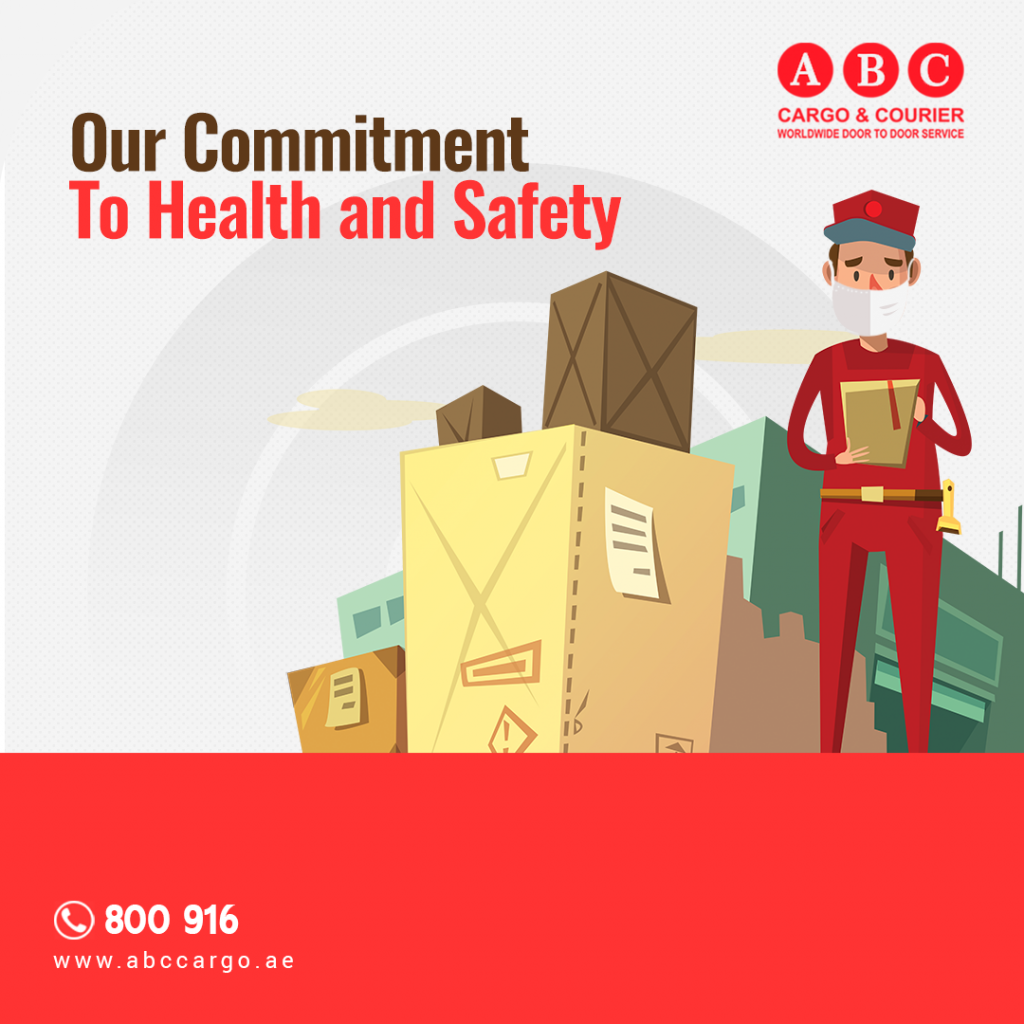 At ABC Cargo, the health and safety of our customers and employees is our utmost priority. In the wake of recent events pertaining to the spread of COVID-19, we have been closely following the latest developments and have been on top of the guidelines and regulations being issued by the World Health Organization and our local public health authorities. As such, we would like to assure you that we are taking all the necessary precautions to safeguard the health of our employees and maintain the hygiene standards in our shipping and delivery processes to combat the spread of the virus.
Due to continually changing national and international travel restrictions, there may be delays in inbound and outbound shipments. In such cases, our customers will be notified promptly and we will be taking every measure to deliver the shipments as soon as it will be possible to do so. We apologize for the inconvenience and urge our customers to bear with us in this time of difficulty. We are also taking every measure to ensure that the packages that are being delivered are being handled safely and hygienically before reaching their destination.
Our employees are being regularly trained in health and safety awareness to make sure they are up to date on the latest necessary precautions. Proper handwashing procedures and constant sanitization, especially before deliveries are being strictly followed, regular temperature testing of all our employees and daily cleaning of facilities and vehicles is being conducted. Once again, be assured that health and safety is our priority at ABC Cargo. We hope this situation is contained soon, and in the meantime, we encourage everyone to stay safe!

Thibir Tamang
Covid time bi ithana acha se cargo thoda late huva but Saman barabar mila (Original) Covid time bi ithana acha se cargo thoda late huva but Saman barabar mila
Varsha Vineeth
I have been using ABC cargo quite frequently and have been very satisfied with the service provided. Thanks to ABC cargo because of your delivery has been quick and efficient always prompt and friendly service. I am using ABC cargo in 5 years never any problems with deliveries or orders I suggest abccargo to my dear friends. Excellent and genuine customer service thanks to ABC cargofor a great service provided.
ABC Cargo Google Reviews Being timely with responding to reviews shows that you care about the opinions of your customers, both good and bad
shahid shahi
I reccomend to all my Friends abc cgo bur dubai they have doing exellent service during the Corona pandemic time I have suggeste u to bur Dubai cargo team
VIMAL KUMAR V S
It's all about the value of service, I paid and I receive the best that's it. For me my valuable items to cargo thanks dear ABC CARGO. Good professionals and best service
I enjoy receiving packages from them. They are always very careful and courteous. I have never been dissatisfied with their service. I look forward to my next delivery with anticipation. Thank you Nadeem
nadeem khan
Really good service
Jolly Sunny
Good service
Rama Mohan
I give 5 stars to ABC. We also love when sending packages out, always on time with tracking as well. Thanks Tina
Tina Mathew
A recent study shows that around 63.1 million metric tons of freight in the globe have been transported through air cargo. In general, the volume of shipments has increased dramatically over the last 15 years – from 40.9 million metric tons in 2004 to their current levels. This indicates that air freight is a foundation of the worldwide economy – important for moving high-value products like hardware equipment, electrical machinery, large apparatus and different things over the world, getting them in the hands of individuals who need them the most at the earliest.
ABC Cargo, one of the finest cargo services in the UAE, has a special place in every consignee's heart. The professional touch in packing goods and cost-effective charges have made ABC Cargo deserve a unique space in the cargo industry.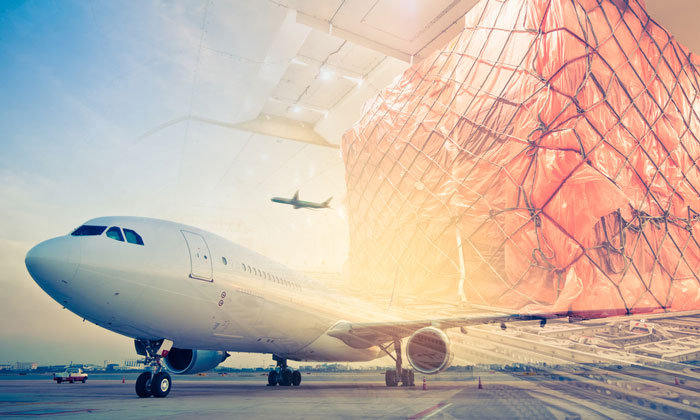 ABC Cargo approach
ABC Cargo gives the best-transporting service via air as we have an overall system to supply your products around the globe. Your searching for the finest courier service in Dubai ends at ABC Cargo, as we serve our customers with enthusiasm for all their transportation needs whether it is by road, ocean or air. Our broad field experience with global transportation via air helps us to finish every customer's expectations proficiently.
ABC Cargo as the best air cargo service provider
Our online tracking system enables the customers to track their courier using a token number in real-time. Our top cargo management crew caters to a wide range of requirements whether it is simple or complex, we convey it to the goal at an entirely reasonable cost. We manage individual customers interested in sending consignments utilizing our transportation via air services in Dubai.
Benefits of sending courier from ABC Cargo
The top advantage of employing one of the best freight shipments companies in the UAE is that it gives you the speediest supply services. At times, you may want to dispatch your courier to a remote destination. Fear not as ABC Cargo has a large network of destinations covering almost the whole world. This implies with our airship cargo service, you can dispatch your products anywhere. Also, products transported via air undergo minimal treatment, which makes air shipment one of the most secure delivery options. At the airport, safety controls over payload are strictly managed and most items are cleared within a matter of hours. This lessens the danger of both damage and robbery.

ABC Cargo has a universal system for packing and moving couriers. We give remarkable help to the air cargo, and air shipping services. Our services are one of the most secure, on schedule, consistent and financially viable. We meet the client's expectations for a long time for air shipping.