Onam is at your doorstep and every household is busy doing the preparations in the best possible way to celebrate Onam in all its glory.

Dubai is also home to numerous Malayali families, though they are miles and seas away from their homeland, Onam can never be kept at bay from their hearts.

This year around too, Covid has not eased its grip and still the pandemic continues to be a constant worry among the public but this should not dampen our Onam vibes in the least possible way.

It's a customary part of Onam celebrations to exchange gifts among family and friends and it has been carried over from generation to generation. But what about your near and dear ones at far-off places?

Door-to-door cargo Dubai to India, is just a matter of time with the best cargo in UAE around, ABC Cargo! 

Cargo to India Get Exciting Onam Offers!
Exchange your gifts to your distant friends and relatives this Onam season with an unbeatable offer of 30% and spread the Onam vibes.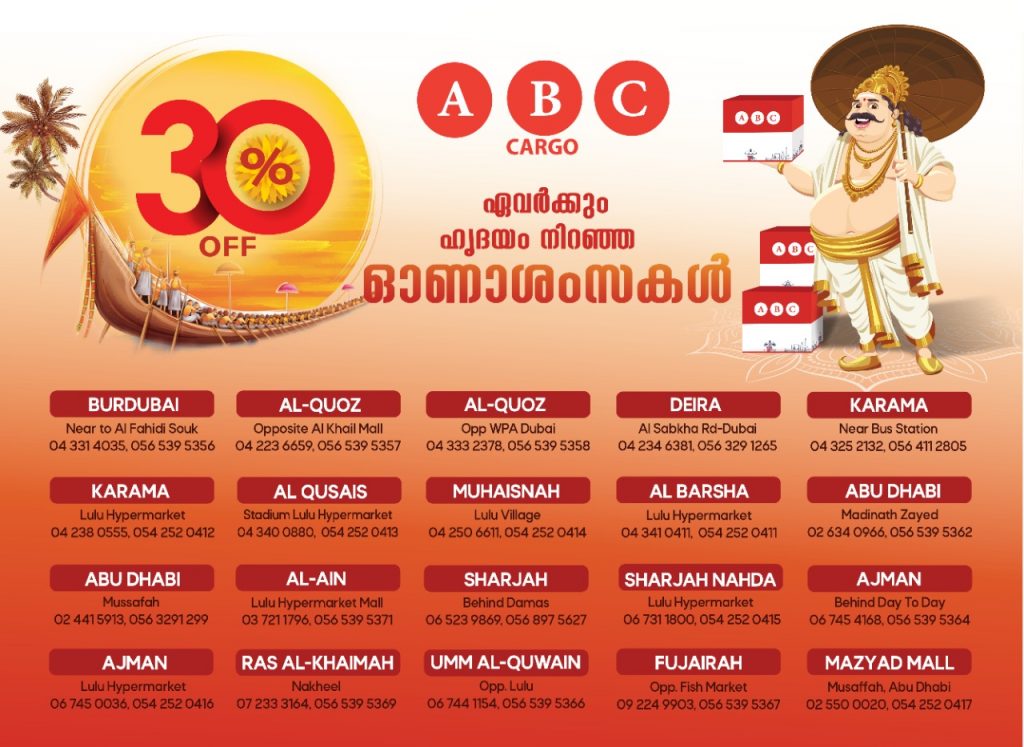 With the pandemic fears still making around, it's best to employ the door-to-door delivery services of ABC Cargo rather than taking the risk to be outdoors than the permissible hours.

ABC Cargo is more than happy to take your boxes of happiness to your closest ones and exchange your good wishes. Celebrations can be pompous and festive with delicious Sadya, traditional attire all by being at home and enjoying the festive season to the fullest!

To your faraway kith and kin, share your love in packages that ABC Cargo will readily deliver at flat 30% off to add to your happiness!

Have a blessed Onam and ABC Cargo family shares all its good wishes to all and let this Onam bring you a lot of cheer and good fortune.
.
Forget the worries of long-distance, get to your home and show them how much you miss them in this joyous occasion and we will make it completely possible with our humble intervention.

Grab the exciting offer of 30% for door-to-door delivery services in UAE and spread the Onam vibes!