When you want to send a package, gift or parcel from the UAE to friends, family or clients who live overseas, ABC Cargo is your best bet. ABC Cargo is one of the most reputed and reliable courier companies in the UAE, having a large clientele across the nation who depend on the company's extensive network and expertise. Your nearest cargo company retains the experience to send parcels to almost any destination across the globe and that too at affordable prices combined with great services.
ABC Cargo simplifies it for you
Dispatching a consignment or package to an overseas destination is by no means an easy process. However, when you use the services of a professional company such as ABC Cargo, you can rest easy and relax while the company gets on the job. Moreover, you do not have to go to the extent of acquainting yourself with country-specific laws and regulations since your nearest cargo company will take care of everything thanks to their significant experience in the field. ABC Cargo ensures that your parcels goes through customs without any glitch and reach the destination safe and in one piece.


What can you ship with ABC Cargo?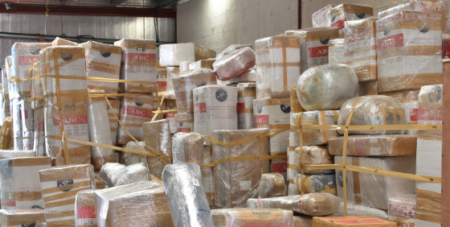 ABC Cargo can ship almost anything to almost anywhere. When it comes to delivery services, the sky is the limit for your nearest cargo company. ABC Cargo has the know-how to deal with shipments based on their destination and their specifications. In fact, if you are operating a small or a medium business in the UAE, you can help it flourish by using ABC Cargo to deliver your products to clients abroad. Moreover, when you have satisfied clients, it translates into a successful business. You can also use ABC Cargo to ship excess baggage, hazardous good, important documents and even large scaled items such as household goods.


Extensive networks and viable tie-ups
ABC Cargo has an extensive network that enables the company to take on challenging shipments to far-flung destinations. Moreover, your nearest cargo company has several tie-ups with other courier companies that expands its network and reach. ABC Cargo offers shipping at realistic rates and the quotes do not include any "hidden charges", in addition to insuring your valuable packages. Moreover, your nearest cargo company has a great website that is extremely user-friendly and easy to navigate. All you need to know is right there on the website and you can also get a quote online from the customer support team that is always at your service.