Due to globalization and aggressive supply chain dynamics, wars, and international relationships, supply chain and freight forwarding companies face complex issues in doing business. As in every other industry, logistics also moved a lot by business intelligence and data analysis. The workflow of the supply chain has changed significantly from start to end.
Some years ago, it was not easy to track or analyze the industry changes or the business metrics, which were not even in digital records. Now it has changed. Businesses are very curious about increasingly detailed information: for example, the whereabouts of their freight, stocks in the warehouse, or the best transport route for the intended transportation.
Business Intelligence in freight forwarding
Companies are struggling with the pricing competition. Only a few big corporates manage to check on the price. As the competition tightens, freight forwarding companies will be apprehensive about its existence as the competitors challenge them. Preparing an overall plan requires business intelligence data to determine the optimal solution.
The Cargo business is reasonably dependent on freight forwarders' rates and seamless logistics supply services. Cargo services branched out from local warehouses to warehousing countries since people started moving around the world so often as their belongings stuff.

The UK has reconsidered its immigration policies eventually as one of the major economic powers in the world; they welcome youth from all around the globe to make life in their country. Business analysts say cargo from Asia to the UK has increased thrice in the last three years than ever. There are many Cargo companies have full-fledged cargo shipping services channelizing the outputs from business intelligence to move the parcels around the globe.
Here are a few tips to overcome this mess!

Unique Needs of B2B shipment service.

The Shipments that are delivered from one business to another are known as B2b shipments, which are usually extremely big orders. They are a lot more complex than B2C shipments, involving larger quantities of products and higher customer acquisition costs. However, with advanced technology, proper management, and quality work, B2B shipments can be made efficient and successful. There are several such B2B Cargo service in UAE.

Needs to be strictly on time

Although time is the most important ingredient in cargo deliveries, it is much more crucial in B2B shipments, as it involves a large number of shipments and their late arrival might most probably affect the entire manufacturing process of a business.

Needs to lower delivery cost

B2C shipments usually involve multiple deliveries in a single go, and so the money can be charged from several customers. But this is not the case with B2B shipments, hence the high delivery costs. However, ABC cargo, a B2B cargo service in Dubai addresses this issue and makes cargo shipping effortless for its expanding customer base.

Needs to depend on regular feedback

Taking regular feedback from customers is a simple and efficient way to identify the problems related to B2B shipments and address them immediately to improve customer service, which in turn elevates the customer retention rate. Customer relationship carries immense importance in B2B shipments as losing a single B2B customer can make a big loss.

Needs to build a good relationship with carriers

Building a sound relationship with the careers is essential in a B2B shipment service, as this might ensure lower costs, on-time deliveries, better service, etc.

Needs to have a clear communication channel

A clear and fast communication platform is crucial in B2B shipments, as it enables a smooth and comprehensible message transfer between the customer, entrepreneur, driver, logistic manager, etc
Needs an accurate tracking system

An accurate tracking system will enable the B2B customers to track the shipments as it proceeds. This will help the customer gain clarity on the shipment delivery and in turn, will enhance customer satisfaction.

You can reach out to ABC Cargo, an international Shipment service provider based in UAE for B2B shipment-related queries.

Have cargo that can be affordably shipped from UAE ports? Want to utilise the best cargo services from Dubai (UAE) to the UK? Is it more expensive to send a shipment to the UK region with practically all cargo service providers? Perhaps you're thinking of ABC Cargo. ABC Cargo, a specialised cargo firm, provides hassle-free door-to-door cargo services for all air and sea freight services to and from the UK.
 
 
Are you trying to get the best and most economical cargo service to the UK? It goes without saying that ABC CARGO SERVICES offers the best cargo services to the UK from the UAE. Experience the best packing and door-to-door moving services available in the UK. Stay amazed to discover the best facilities for that, including complete tracking and high-quality packing and moving to the UK.
 
 
A simple way to send cargo from the UAE to the UK
 
For the door-to-door relocation to the UK, we can load the container and handle all the export and import paperwork. In addition, we offer the most thorough door-to-door service possible in the UK.
 
The expectations of your clients in terms of quality, timing, promptness, updates, and transparency are met by ABC CARGO SERVICES. We know how important it is to take advantage of this chance, and as a result, we have the expertise and quality to suit the needs of the UK community who want to send packages there.
 
Cargo Services to London from the UAE
 
ABC Cargo offers the best cargo services from the UAE to London. We ship both personal and business items to the UK. Our professional packing and prompt delivery are both standards. Our staff is dedicated to offering all these facets of service delivery to each and every one of our lone customers who send personal stuff to the UK.
 
Undergo a professional, hassle-free cargo service from the UAE to the UK to the key UK cities as follows. By using ABC Cargo, residents of Abu Dhabi may easily access a full range of cargo to UK.
 
Experience the world's best no. 1 cargo service from the UAE to the UK with simple support and a speedy resolution for all the paperwork. If you make shipment alone, it can be more difficult, and it will undoubtedly be challenging. This can be done by a licensed cargo firm, and we take care of it for you with simple steps. Our customers will receive the best freight service with simple paperwork support with just one call. No matter where you want to ship your cargo to be delivered in the UK, we take care of everything thoroughly.
Are you quite happy that you received the package at your doorsteps? Were you satisfied that it was wrapped, sealed, and packaged to perfection? But are you aware of behind the scenes of this happy home delivery?
Many freight forwarders undergo a couple of risks and liabilities to successfully deliver a package from order to delivery. Given that every situation is unique, it is very difficult to discuss the liability of a freight forwarder in writing. A freight forwarder's responsibility to both their principal and the third party in the obligation is inextricably linked to their liabilities.
ABC Cargo, an air cargo services company in Dubai, has compiled a list of risks and liabilities every freight forwarder faces in their course of business on a regular basis!
Total loss of cargo– This may occur as a result of theft or physical damage to the cargo while in the care of the freight forwarder.
Damage to cargo – This may result from erroneous or inappropriate handling of the cargo while in the care of the freight forwarder or incorrect or poor packaging of the cargo.
Rerouting of goods– This may be necessary if the freight forwarder's documentation for the carrier was incomplete and the cargo wound up on another continent.
Cargo abandonment– This could occur if the consignee who was expected to receive it abruptly does so owing to financial difficulties, order cancellation, etc.
Faulty documents– Reception of the goods at the destination can be delayed due to faulty documentation supplied to the carrier by the freight forwarder, incorrect cargo declarations made to customs, or any other sorts of incorrect cargo documentation completed by the freight forwarder that contributed to this delay.
Customers depend on the freight forwarder's experience and expertise to pick up the cargo from the seller, arrange for proper packaging of the goods, handle all paperwork and clearances along the way, and deliver the cargo to the buyer at the specified location, at the correct price, and in the same condition that it was picked up from origin using the best resources and routing.
Choose the right freight forwarder!

Well, if you were among those who believed that anyone can work as a freight forwarder and lead a simple existenceThink it through again and choose the best freight forwarding companies in Dubai!
Shippers frequently operate under the presumption that their freight shipping methods (and related expenses) are essentially set in stone and cannot be altered. But it doesn't mean you shouldn't question the way things are done just because "it's always been done this way." At ABC Cargo, best cargo in UAE, we've found a tonne of methods to save freight expenses, changes you can start putting into practise right away.
Some of them are quite straightforward, such as providing nighttime freight pickups. A clever strategy adopted by cargo companies in Dubai can result in freight cost savings of up to 50% compared to "business as usual." Below are the specific recommendations to reduce those freight expenses are provided below, along with an estimation of the amount you could save.
1. Consistent contract lane volume

Your carrier can sell such backhauls and expand his network if he is confident that he will work with you every day and receive a steady flow of freight in the same lane. As a result of the carrier's increased efficiency, you will pay less. Furthermore, given the limited capacity in use today, these carriers will concentrate on transporting the freight of customers who are dependable and have high freight quantities.
2. Ship during non-peak hours
Shipping later or sooner can result in observable cost savings. Because most customers strive to get their product to the store by Thursday so it may be shelved Friday and be ready for sale at the weekend, Friday is often a slow day for delivering consumer products. Additionally, Mondays are frequently low-volume days when carriers are looking for freight. Obviously, it varies on the cargo—for instance, canned items have a wider window than fresh goods. Shippers of non-consumer goods can benefit greatly by shipping off-peak.
3. Locate a local consolidation programme to manage smaller shipments.

Retail consolidation is a no-brainer; by pooling your LTL shipments with those of other local businesses shipping directly to the same mass merchants and grocery chains, everyone benefits. Even more significant shippers, including Colgate and CVS, have entered the fray. Only your portion of a less expensive TL shipment is paid for by suppliers like you. In order to maintain their dock bays open and reduce labour costs, retailers get loads on time and receive the same number of goods in fewer, fuller loads. Where might you locate qualified shipper-partners? One place is the local Chambers of Commerce or other business associations. You can also cooperate with a 3PL that has a programme for combining freight from many companies.
4. Avoid frequent rate shopping and focus on building relationships.

To demonstrate to management that you're serious about lowering freight costs, you might feel compelled to perform the annual RFP dance. However, the best strategy is not to break off the relationship and start over with new carriers each year. Actually, it's the "speed dating" of freight. Shippers get transportation management advantages that have an impact on their bottom line when they establish stronger long-term, strategic relationships with carriers. Longer-term agreements offer the carrier time to look for nearby clients in order to build a network that is more effective and has fewer deadhead miles. A airline that is profitable and is maximising its assets may afford to provide you better rates.
5. Lengthen lead times for deliveries
Any time planning can be included into the supply chain and the carrier is given as much warning as possible about upcoming loads, they are able to make the most of their resources, including trucks, drivers, and warehouse space. A carrier can simply line up the assets and resources with the help of an advance shipping notice. Paying for a trailer to sit at a facility when it is empty while waiting to be loaded up is one of the biggest expenses for carriers. Carriers can lower those costs by better planning, then some of those savings are passed on to you.
Challenge the Status Quo to Lower Freight Costs
Despite the fact that many of these solutions appear obvious, shippers frequently choose to disregard them and wind up overpaying for freight. Why? The primary offender is the widespread adoption of "business as usual" procedures and rules, both within individual departments and between the shipper and the client.
Check to see whether any of the aforementioned ideas apply to your company. Next, take a step forward. Examine your freight programme and challenge each presumption that was made, such as that it must arrive in two days, that rail transportation is unworkable, or that marketing drives the carton size. When you challenge the established quo, you will save money and see your investments grow.
Are you planning to move overseas? The first thing taking up your mind space would be how on earth are you going to pack and parcel all your household items in a single go? If you are overly anxious about the large mass of things to be packed, from heavy utensils to light fabrics and fragile breakable glassware, things can be settled smoothly with the best industry packing tips from ABC Cargo, the door-to-door cargo service provider in Dubai! Things needn't be topsy-turvy and all household items can be packed based on their nature within the weight limit and delivered to your doorstep without any tampering or damage just by following these tips.

Looking for some helpful relocation packing advice? With our top packing tips and tricks for relocating, you can make it easier and make the most of your space and weight allowance.

Last but not least, pack the essentials.

This may sound self-evident, but when you're anxious about packing, it's easy to forget: the items you need the most should be packed last. This means you'll be able to access them before you relocate. They'll be easy to locate when you arrive.

Distribute the weight.

You don't have to pack boxes one at a time when preparing to relocate. Start by filling a few of them, putting heavy objects at the bottom and lighter stuff at the top. Keep in mind that someone still needs to choose. Remember that the box must be picked up by someone, whether it's you or a mover. Most moving firms have box weight limits, so make sure you are aware of them. The restrictions aren't merely for the sake of the folks who are packing. An overstuffed box is more likely to break, and the last thing you want is your goods spilling out all over the road.

Wrap fragile items in your clothes to protect them

One of our favorite packing tips is this one. Bubble wrap and scrunched-up newspaper can be replaced with your clothes, pillowcases, or other material things. Use the things you're already carrying as packing material for more fragile items to save space and weight.

Roll your garments.

This is another excellent packing tip. Rolling garments is the most effective way to pack them for a move. Clothes that are tightly wrapped take up less room than those that are folded. In addition, they are less prone to wrinkles and creases. If you're sending your garments, bear in mind that they may remain there for a long time, so everything you can do to keep them smooth is a plus!

Fill in the blanks.

Do you need to bring any shoes? Containers? Baskets? Make the most of your area by making full use of it and filling in any gaps that may exist. Putting things in your shoes is also a wonderful carry-on luggage packing technique. If you have fragile objects (such as a bottle of cologne), putting them inside a pair of shoes can help keep them from breaking.

Using a vacuum, seal the opening

Vacuum packaging allows you to keep things small and save space. It also protects things from moisture and other types of damage. This is especially useful if you're shipping products over a long distance or storing them for an extended period of time.

Organize and label everything

It's a lot easier to live when you know what you've put there. Make a list of the contents of each box. It's a good idea to pack like with like. Some people prefer to pack by room, although this isn't always practical, depending on the items, their weight, and their size. Create a system that balances all of the practical factors for you but keeps track of what you've put where so you can find it fast. It also means you'll be aware of what you've previously packed in case you need to locate something or aren't sure if it's in a box. Make a list.

Make the most of your carry-on luggage allowance

When you travel, you have a luggage allowance, so make the most of it! True, you don't want to overstretch yourself on your trip, but you can still decide ahead of time what you bring on board (or bus, or train). This also applies to the clothes you wear. Wearing your larger, heavier garments, for example, will save space in your carry-on as well as what you pack to ship over.

Keep a relocation checklist handy

The importance of planning cannot be overstated. Figure out what you'll need, want, and when you'll need to start packing. After all, packing is only one aspect of moving internationally, so think big. We've put together some moving checklists to assist you in preparing for your move.

Consult household movers for Relocation Services

You can probably handle a minor relocation on your own, though there will still be some tense moments. "Household movers near me" is worth searching for when it comes to larger transfers, when you may need to arrange for multiple boxes of possessions to be packed and delivered. They're professionals that can assist you in selecting the ideal relocation package for you as well as provide additional packing and moving advice. For additional queries, feel free to contact cargo number 800916!
When was the last time you saw the sunrise and sunset, continued stargazing and philosophizing about life, laughed until your muscles ached, ate breakfast in bed, and these are the happiest little moments of life that can bring a wide grin on your face? Did we miss out on something? And that is making other people happy! Seeing a gregarious smile on your beloved's face can pump a rush of endorphins into one's body and make you feel on top of the world!
No wonder a baby's giggle can send you to bursts of laughter and that infectious smile is exactly what ABC Cargo, the best cargo in the UAE, providing fast courier service to India, is all prepped up to deliver with their most recent deal of the season! Visiting the family and chatting with them over a cup of tea would not be quite possible for every man under the sun. Moving away from near and dear ones with job placements and better prospects can all make you physically distant from your tribe, but does that mean you should potentially miss them and lose the best opportunity to make them happy? ABC Cargo, the best when it comes to searching for the best international courier near me, says NO to your quick thought and bundles you with a slew of reasons to stay happy wherever you are while still making your loved ones feel close to you.
How is that an easy catch? Presenting the best offer brought to you by ABC Cargo, this can enable you to send your shipment anywhere from 2kg to 10kg at an attractive price that goes easy on your pockets. If purchasing the gifts to be sent and later contacting the cargo delivery service provider has been creating an ordeal for you, it's easy peasy with ABC Cargo!
Take advantage of ABC Cargo's services at all major LuLu mall outlets and forget about the hassles of shopping and shipping as separate time-consuming and exhausting tasks when ABC Cargo has masterfully combined them into a single module to save you time and money with affordable courier charges from Dubai to India.
Over the years, ABC Cargo in Dubai, an international cargo service provider, has provided full and finite logistics and shipping solutions. In addition to freight forwarding, top-notch customs services are available to help streamline the logistics process for both domestic and international shipments. ABC Cargo believes that everyone's time is equally precious, and it values simplicity above all else.
Besides freight forwarding, impeccable customer service is provided to smoothen the logistics process for both domestic and international cargo services. ABC Cargo believes that time is equally valuable to all and embraces simplicity at its best.
Grab the offer at attractive rates.
Send your shipment to the doorsteps of your near and dear ones without any hassles and at attractive prices, and feel closer to them no matter how far you are! Stop thinking and start shopping and shipping easily with ABC Cargo's freshly brewed trail of enticing offers!

After a long academic year, it's finally the time of the year to take a moment to appreciate the little things in life, which significantly points to the annual vacation plan.
Drenching in monsoon showers, gorging on golden ripe mangoes, and catching up with cousins: an endless list of memories clog our brains and fill our hearts, urging us to return to our hometown. Exploring the top spring vacation destinations like the UK with pleasant temperatures is quite unmissable!
ABC Cargo Summer Offer
ABC Cargo has made the summer heat rise up with a hot offer coming your way. Now send your shipment at just 7.95 AED from UAE to India with ABC Cargo!
With the onset of vacation, it's hopefully the time of ongoing discussions on when to book the tickets, how to chart the vacation plan, how long should the leaves be taken, and so much more. Now, are we forgetting something important?
Yes, the boxes of chocolates for nieces and nephews, gifts for aunts and uncles, confectionery boxes for neighbors, and the bandwagon of essentials and non-essentials keep on adding up.
Not to forget one's own luggage! And this reveals yet another important constraint, and that's the maximum weightage that could be allowed per person on the flight!
Yes, we could hear that heavy sigh that you have just added at the last minute of a quick reminder! But don't worry! ABC Cargo can be your last-minute go-to for extra hands to safely deliver your luggage to your destination on time, just the way you want it!
Hand over your extra baggage to the international delivery partner, send cargo to India with ABC Cargo, and relieve yourselves of the worry! ABC Cargo extends our service palette to all major vacation hotspots and dream destinations including Europe and UK.
Ship your baggage the easy way!
From packing to delivering, your shipment is sound and secure in the hands of ABC Cargo, even in the middle of the ocean.
Finally, use the real-time tracking service of ABC Cargo to know the current status of the shipment. For any possibility of disaster or delay, the customer would be contacted soon enough and kept in the loop for the flow of information. 

Looking for the best door-to-door courier service? Find ABC Cargo, the best cargo in the UAE, and a crew of experts to handle your shipments with ease. We offer high quality service for door-to-door cargo to India from Dubai and are the best among cargo companies in Dubai at affordable rates.
Plan your vacation with ABC Cargo!
With rapid transportation, ABC Cargo, providing cargo services in Dubai to India with 20 years of experience, can now provide fast cargo-based solutions. Now, you can send a shipment from Dubai to any country in India and have it delivered to your door. The global cargo network has positioned us to deliver cargo service to areas like never before.

The summer sun is beating down on us and it heralds something else too, namely, summer vacation! Schools have been shut down and the season of golden ripe mangoes is upon us. With the stifling heat taking over the world, popsicles and ice cakes are just unmissable!
With the onset of the vacation season, people make their annual visits to their homelands or else invite their distant relatives to their place of stay. But with back-to-work sessions going on seriously in major cities, getting a long leave would not be so easy. But still, we can make our presence felt by always sending a package over to our loved ones! And this is made easy as pie with the express delivery services brought to you by ABC Cargo!
With its exceptional service quality and dedication, ABC Cargo has turned out to be the most preferred courier company in Dubai.
Get Your Ramadan Offer Delivered to Kerala!
Take advantage of this fantastic seasonal offer:
For packages less than 2 KG, 3 KG, 4KG, 5KG, 6-10 KG, ship them to your destination at AED70, AED80, AED90, AED100, AED210, respectively.
Over the years, ABC Cargo in Dubai, an international cargo service provider, has provided full and finite logistics and shipping solutions. In addition to freight forwarding, top-notch customs services are available to help streamline the logistics process for both domestic and international shipments. ABC Cargo believes that everyone's time is equally precious, and it values simplicity above all else.
Besides freight forwarding, impeccable customs services are provided to smoothen the logistics process for both domestic and international cargo services. ABC Cargo believes that time is equally valuable to all and embraces simplicity at its best.
Choosing the correct shipping provider for your organization is critical and depends on a number of criteria. The search for the best shipping company for sending cargo to India might be exhausting if you don't keep a few essential considerations in mind. The warm welcome among the customers alike has led to the flourishing of ABC Cargo to unparalleled levels and has positioned it as one of the best cargoes in the UAE!
Celebrate your vacation season with ABC Cargo!

Grab the best offer brought to you by ABC Cargo to send cargo to India this Ramadan season and share the season's greetings with your near and dear ones in Kerala at affordable prices!

The holy month of Ramadan has arrived. It's the time of fasting, introspection, and prayer all over the world with emphasis laid on spiritual discipline. Believers fast from food and drink during the daylight hours of Ramadan to remember the revelation of the Qur'an and to cultivate self-control, thankfulness, and compassion for those who are less fortunate.
Ramadan Special Offer to Kerala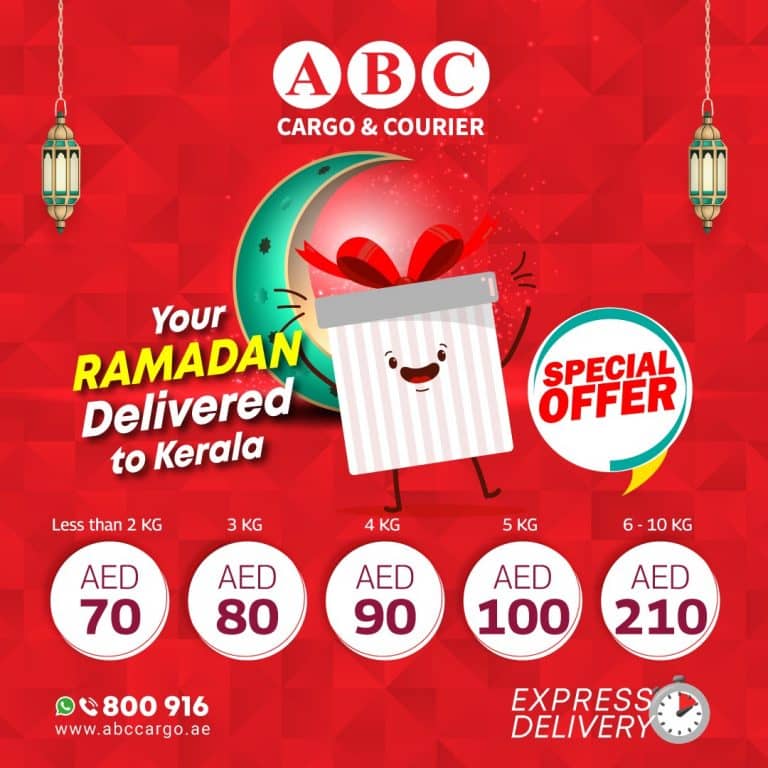 Grab the best offer brought to you by ABC Cargo this Ramadan season and share the season's greetings with your near and dear ones in Kerala at affordable prices!
This month of intense spiritual rejuvenation with a heightened focus on devotion calls for compassionate living with a strong foundation laid on brotherhood and empathetic love for one another. Through restraining yourself from food and fluids during the day hours can elevate you spirituality, it's always wise to recall your slightly struggling distant brother and send him the season's greetings! Don't you think this will take you one step closer to the true calling of Ramadan?

Being reminiscent of your childhood friend Rahim and sending him a shipment to India is now made simple and swift with affordable door-to-door Cargo to India price per kg. After crossing seas and settling in foreign lands you need not cut ties with your homeland, and you may send cargo to India anytime soon with the best cargo partner!
To send shipments across the seas, consult the best cargo-partner in UAE, ABC Cargo, and Courier, and share the season's greetings with your family and friends. ABC Cargo has direct shipment as well as third-party lodgement of the shipment. For fragile items, we have separate customized packaging plans that can cost you a bit more than the usual pricing plan and the delivery of your shipment will be sound and safe!

Over the years, ABC Cargo in Dubai, an international cargo service provider has provided full and finite logistics and shipping solutions. In addition to freight forwarding, top-notch customs services are available to help streamline the logistics process for both domestic and international shipments. ABC Cargo believes that everyone's time is equally precious, and it values simplicity above all else.
ABC Cargo and Courier is a leading door-to-door Dubai to Kerala cargo service provider in the UAE and other GCC countries, offering both local and international services. Thanks to their constant efforts and high-quality service, ABC Cargo is the number one cargo service in the UAE, with 22 branch offices that have a highly dedicated team and a GCC Representation Network.

Share the happiness of Ramadan!

For a greater incentive to do good and avoid wrong, let's commemorate the actual conduct of Ramadan and share happiness with one another!